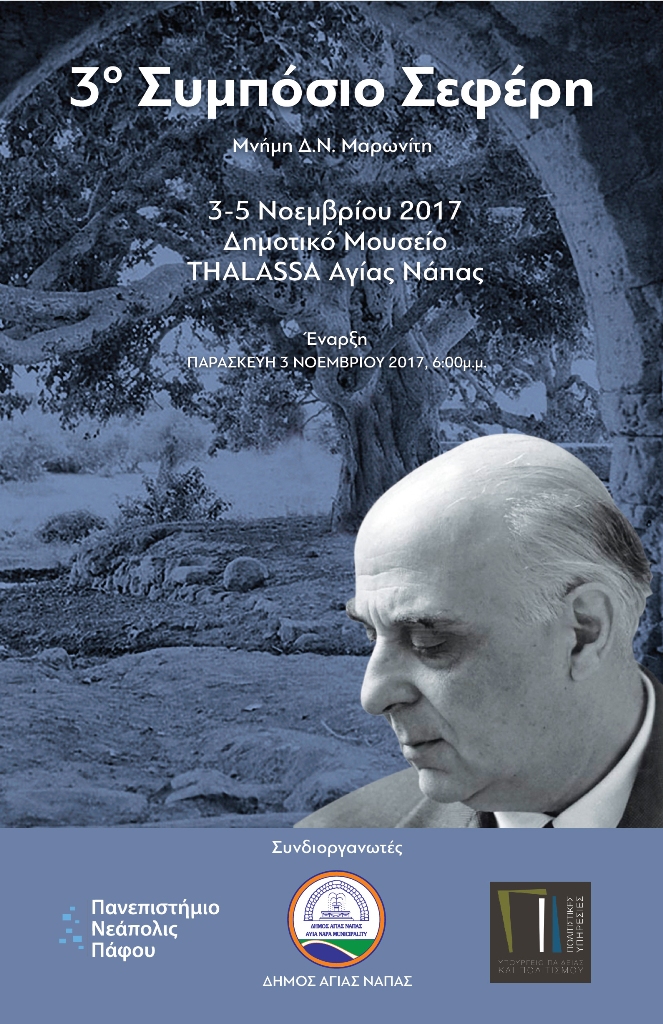 The University of Neapolis Paphos and the Municipality of Ayia Napa, under the auspices of the Cultural Services of the Ministry of Education and Culture, are organising a symposium dedicated to the first Nobel Prize-winning Greek poet, George Seferis. The Symposium will take place on 3, 4 and 5 November at the Municipal Museum "Thalassa", in Ayia Napa, a town from which the poet was inspired and in which he dedicated several poems.
The symposium will be attended by major scholars and scholars of Seferis' work. The aim of the symposium is to illuminate new aspects in Seferis' multidimensional offer, giving at the same time a step to new scholars of his work.
The 3rd Seferis Symposium is dedicated to the memory of Dimitris Maronitis, a top philosopher and scholar of Seferis' work. In this context, the opening ceremony will be attended by his wife, Anthy Maronitis, the former President of the Academy of Athens, Thanasis Valtinos and the poets Titos Patrikios and Kyriakos Charalambides.
The opening ceremony will take place on November 3, at 6:00 pm, at the Municipal Museum "Thalassa" in Ayia Napa where the Director of Cultural Services, Pavlos Paraskevas, the Rector of the University of Cyprus, Konstantinos Christofides, Vice President of the University of Neapolis Paphos, Diomidis Marcoullis, Mayor of Ayia Napa Yannis Karousos and the Ambassador of Greece to Cyprus Ilias Fotopoulos, will make opening speeches.
The opening of the proceedings will be announced by the President of the Republic of Cyprus Nicos Anastasiades.
The entrance is free to the public./IBNA