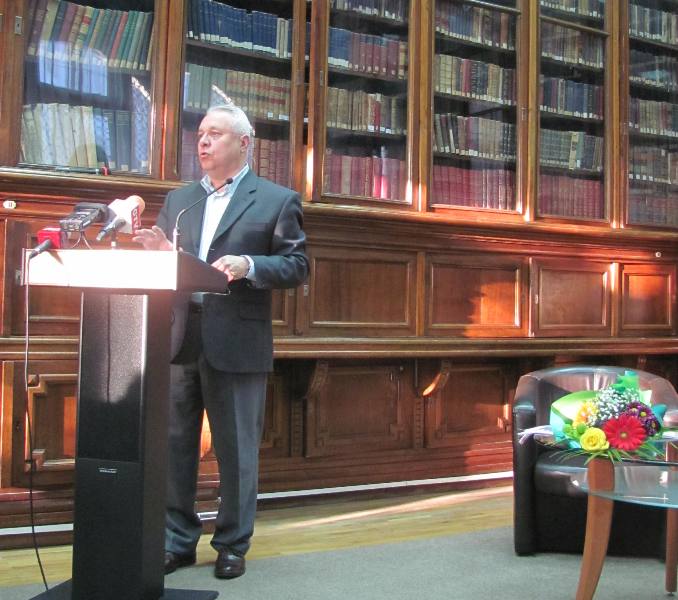 Bucharest, October 24, 2013/Mira Skënderi
100th anniversary of the birth of the writer Petro Marko was the motive of the symposium "Petro Marko and Albanian contemporary literature", in the center of the region of Oltenia, in Krajova, Romania.
The symposium was dedicated to the life and work of the Albanian author and it saw the promotion of the novel "Men and wolves" by Petro Marko, translated into Romanin by the well known translator and connoisseur of Albanian literature, Marius Dobrescu.
Amongst others, Dobrescu said: "The work of this talented writer illustrates at best the murdering character of the Albanian communist regime, of communism in general: always and everywhere, the regime liquidated first of all its children, those idealists that thought that the dream for a better society can become reality. Albania is a significant example for this, starting from anti-fascist war comrades and by concluding with Prime Minister Mehmet Shehu, Enver Hoxha, who eliminated a precious generation of participants in the anti-fascist war, intellectuals, writers, etc.  Petro Marko was one of the victims."
Writer and translator, Marius Dobrescu (photo) also talked to the participants about the drama of writer Petro Marko, about his ups and downs, about his successes, but also about his painful failures, leaving behind "his long work, which clearly went beyond the literary picture of the period. It's a work which will remain throughout the years a testimony of the talent and expressive force of this author".
Since when they came into light, the narrations of Petro Marko were valued by the Romanian reader, like other Albanian authors who were translated by Marius Dobrescu such as Ramiz Gjini, Arber Ahmetaj, Fahri Balliu, Gjeke Marinaj, Ermir Nika, etc, who have constantly grabbed the attention of this reader.
Literature academic, Dr. Luan Topçiu says: Being one of the participants in the Spanish Civil War (1936-1939), having direct contacts with western literatures and languages, Petro Marko has been an inspired by the spirit of that period and several European cultural models which have had a similar fate.
It was this western spirit, -said Dr. Topçiu, which was not tolerated by Albanian communism and which didn't spare not only his work, but the writer himself.
Present in this activity dedicated to the memory of Petro Marko, hosted by League of Albanians of Romania League, was Oana Manolscu MP and an audience comprised of writers, men of culture, journalists, etc. /m.k/a.ibna/