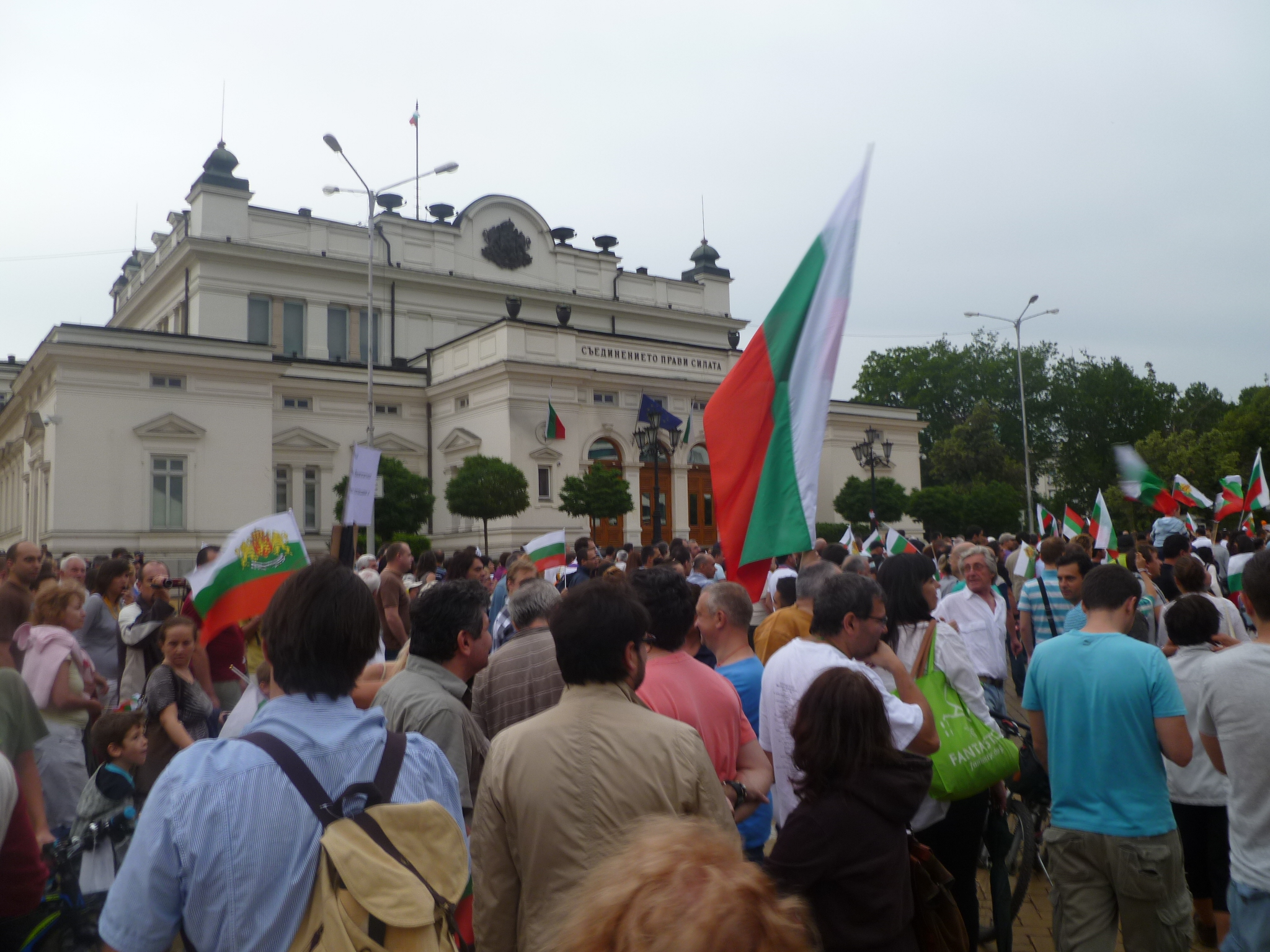 By Clive Leviev – Sawyer of The Sofia Globe
The tenuous position of Bulgaria's government was exposed on the morning of June 26 when Parliament was left without a quorum, meaning the day's sitting had to be cancelled, after MPs for ultra-nationalists Ataka failed to show up.
This happened as anti-government protests embarked on a change of practice – in addition to the now-routine evening demonstrations, the morning of June 26 saw about 1000 people gather to drink coffee outside Parliament, in support of their demand for the Bulgarian Socialist Party government to resign immediately.
MPs and Cabinet ministers who came to Parliament were booed and jeered, while a few protesters hurled tomatoes and eggs.
An attempt by a BSP MP, Maya Manalova, to speak to the protesters to invite them to return in the afternoon to come into Parliament to discuss changes to electoral law ended in ignominy as protesters hurled their contempt at her.
Bulgaria's Parliament has a difficult time getting the required quorum to proceed with a sitting. The BSP and Movement for Rights and Freedoms have together 120 out of 240 seats and need an additional MP to be officially present.
In the past few weeks, this usually has been supplied by Ataka and sometimes by Boiko Borissov's centre-right GERB, which otherwise boycotts proceedings, although GERB is prepared to attend sittings where electoral law changes are to be discussed.
Ataka's position in relation to the government is ambiguous because Siderov's party provided the quorum to enable the government to be voted into office and is widely seen as colluding with it, but at the same time Siderov tries to distance himself from it. It is a balancing act at which Siderov is failing – a recent poll showed a sharp drop in support for his party.
BSP leader Sergei Stanishev sought to put a positive spin on the June 26 failure to get a quorum, telling reporters that the absence of Ataka showed that it did not support the government.
That the party that had the mandate to form a government is citing another party's "lack of support" for that government as, apparently, evidence that all is well is – in fact – evidence for just how bizarre Bulgarian politics has become as a government that is widely unpopular and seen as increasingly discredited clings to power.
At the same time, the protesters – whose slogans include "we will not get tired" in their quest for the government to step down – got a psychological boost from the failure of the parliamentary sitting.