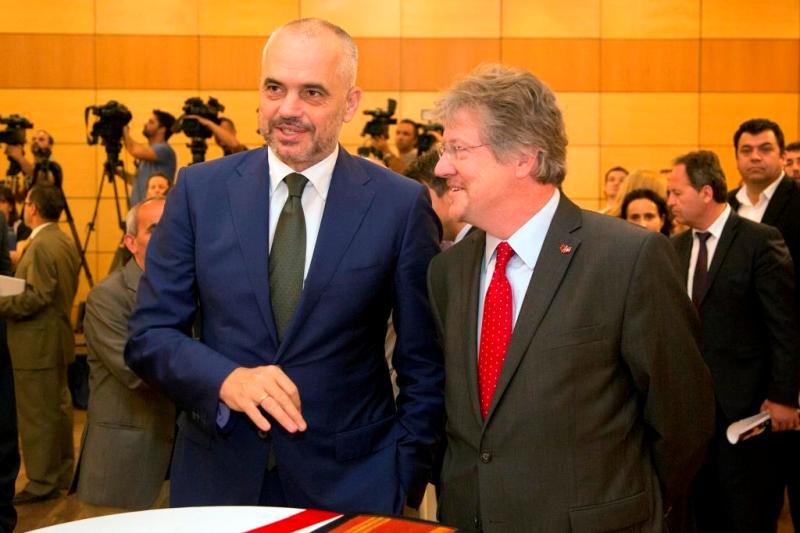 The document which was made public today determines how Swiss Cooperation's budget of approximately 70 million Euros will be used over the next four years
May 29, 2014/ Independent Balkan News Agency
The Swiss Cooperation and the Embassy of Switzerland presented a new strategy to support Albania over the period 2014-2017. The new strategy stands for a renewed formal agreement by Switzerland to remain engaged in Albania. Switzerland will support Albania in its transition efforts through contribution to effective democratic systems and a socially inclusive competitive market economy towards European Integration.
The Chargé d'Affaires and Director of Cooperation at the Embassy of Switzerland, Holger Tausch, stated a few examples of Swiss development and cooperation work in Albania and emphasized the new elements of Switzerland's assistance for the next four years. "For additional focus and clarity we have now 4 domains of intervention instead of 2; One new dedicated sector with increased means: the Health sector as the most noticeable single change over the past strategy", said Mr. Tausch.
Prime Minister Edi Rama who greeted the event, focused on the importance of Swiss-Albanian relations and the valued contribution Switzerland's cooperation assistance offers in some key areas. "The cooperation strategy is one of the most interesting documents that I've read, with a deep analysis, with no brilliant exaggerations, of the relations between the two countries", said the Prime Minister, while pointing out that the content of Swiss Cooperation's strategy is compatible with government's priorities in many areas. "All four areas where Swiss support will focus in the years 2014-2017 are in fact areas of priority attention for us and we are determined to achieve results", added the Prime Minister.
The new Swiss Cooperation strategy emphasizes 'inclusiveness' whether in democratic, social or economic aspects, and it determines four key areas where Swiss assistance will focus. In addition to democratisation, decentralisation and local governance, economic development, urban infrastructure and energy, the new strategy foresees increased support for the health sector.
The overarching goal of the new strategy is to support Albania's democratic and economic transition towards European integration. Currently Switzerland is the 4th largest bilateral donor in Albania after Italy, Germany and USA. The Swiss view is that Albania has made remarkable progress in political and economic stability but that challenges remain in specific sectors. That is why the new Swiss development strategy is important as it has been designed in alignment with national priorities. It was finalised after a process of consultations and discussions with government, local and international partners.
Approximately 70 million Euro will be supporting development work in the above areas with about 30% going towards improving urban infrastructure and energy systems, and 28% towards democratisation, decentralisation and local governance. Swiss development funds and expertise are held in high regard among governmental and international partners especially in areas where Switzerland offers a long experience and history.
Albania is a priority country for Swiss international cooperation and assistance and a permanent Swiss Cooperation office has been present in the country since 1997. /ibna/