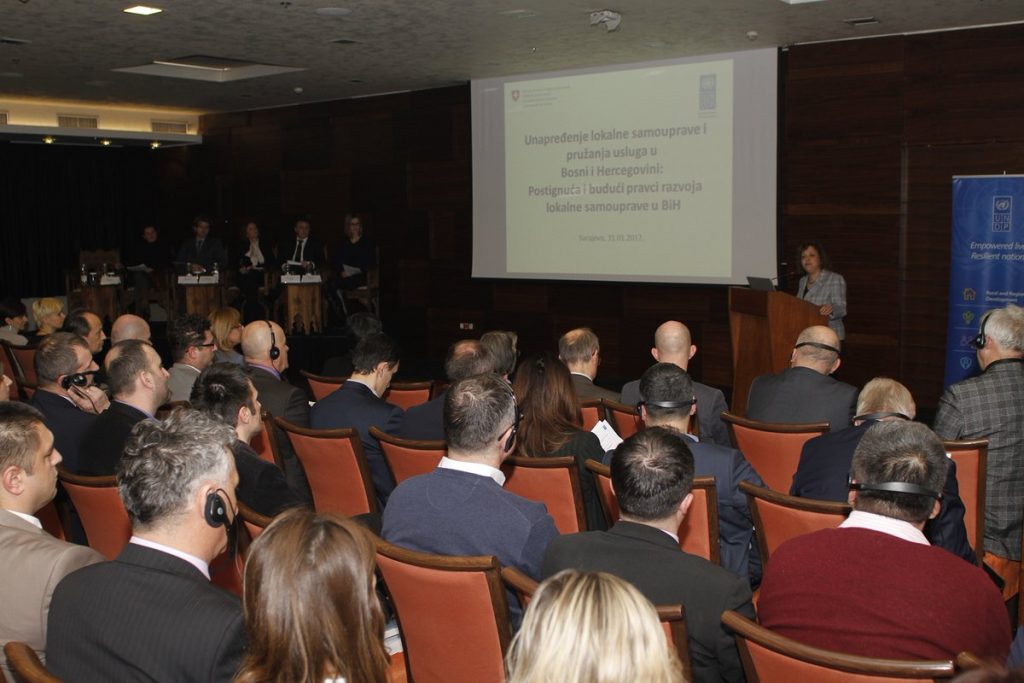 Embassy of Switzerland in BiH and the United Nations Development Programme (UNDP BiH) organized the conference on "Strengthening of local governance and service delivery in BiH: reflections on key achievements and the way forward", which presented key approaches and good practice in community development and delivery of public services and their contribution to a better quality of life of citizens in BiH.
As it was announced from UNDP, two projects that significantly contribute to the development of local self-government in BiH were presented at the conference. One is the Integrated Local Development Project (ILDP) and the second is the Municipal Environmental and Economic Governance (MEG) Project, both funded by the Swiss Government and implemented by the UNDP BiH.
"During the past 15 years Switzerland has invested a lot of efforts in developing democratic and efficient local governments in BiH. In the coming four years, the Swiss Government will provide more than 70 million KM for several projects on strengthening of local governance. These projects shall help municipalities to efficiently provide services to their citizens and to be accountable to the citizens. The support also includes the improvement of local infrastructure, with focus on water, as well as providing quality services to local businesses. We encourage citizens of BiH to take an active part in decision-making processes and thus to design their own future", said at the conference Barbara Dätwyler Scheuer, Director of Cooperation at Embassy of Switzerland in BiH.
The presentation of concrete results of USD 11 million worth ILDP project, has shown how strategic planning contributed to improved work of local governments, and a better quality of life for citizens throughout the country. Besides contributing to harmonization of the overall approach to strategic planning and development management, ILDP has provided concrete support to implementation of priority projects based on the development strategies in 40 municipalities and cities, which has significantly improved the provision of public services to almost 400,000 people. In addition, in cooperation with the entities' governments, revenues were secured for 2,400 people working in agriculture, and more than 500 new jobs were created. It was announced that the new, third phase of ILDP project will start in 2017.
"ILDP and MEG projects significantly contribute to the strengthening of local government and public services in BiH as well as speeding up the process of accession to the European Union. These projects bring investments into local communities, and contribute to improved services for the citizens, economic prospects, employment opportunities and overall better quality of life, said  Resident Representative of UNDP in BiH", Sezin Sinanoglu.
The new Municipal Environmental and Economic Governance (MEG) Project, which began in mid-2016, represents a further action to strengthen local government and public service delivery in the 18 municipalities and cities in BiH. During the first phase of the MEG project, worth around USD 12 million, support to local authorities will be provided in areas of improving the quality and availability of public services and utilities infrastructure, and improving the living conditions for at least 700,000 citizens. Special attention will be paid to socially vulnerable population. the MEG project planned to support more than 500 companies and help create about 180 new jobs.
"At the end of the conference, representatives of 18 partner local governments signed a Letter of Intent on participation in the realization of MEG project", announced the UNDP./IBNA