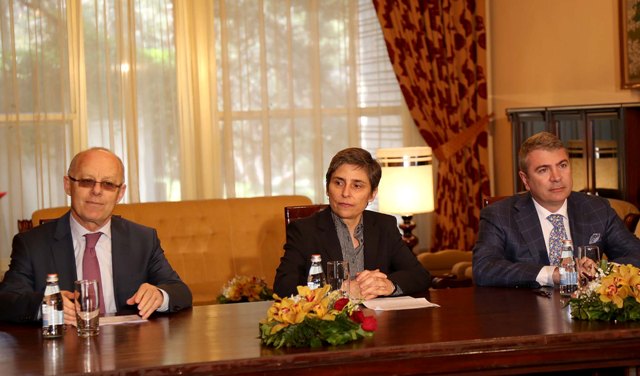 Tirana, March 19, 2015/Independent Balkan News Agency
A new Swiss government grant will support Albanian institutions in developing capacities to create a gas market, to successfully implement large investment projects and to benefit from the Trans Adriatic Pipeline (TAP).
Ambassador Beatrice Maser, Director at the Swiss State Secretariat for Economic Affairs (SECO) together with ministers Damian Gjiknuri and Shkëlqim Cani signed a new agreement that commits 6.6 million Euros to develop a domestic gas market, implement the TAP project and manage large infrastructure projects.
Ambassador Maser, said the project and the TAP investment are of a higher strategic importance for Albania. Among the results expected by this contribution she mentioned improved energy security through energy diversification, economic growth through a strengthened investment framework and reduced greenhouse emissions through lower imports of fossil-fuelled energy.
Whereas the Minister of Energy and Industry, Damian Gjiknuri said: "With the Swiss government we now have an intensive programme in diversifying energy sources through this important fund that serves the strategic objective of our country's gasification".
As the implementation of the TAP project begins, this latest Swiss contribution aims at improving capacities of state institutions in managing the country's emerging gas market. Between 2011 and 2013 Switzerland facilitated Albania's entry into the TAP project by creating the proper framework conditions and laying the ground for a potential gas supply to the country.
The new agreement will aim to improve technical and managerial capacities of the public administration in the new gas sector especially in connection with the TAP project. As a new energy source, gas can greatly contribute to energy security by complementing the current hydro power sources. In addition, the introduction of gas infrastructure has the potential to reduce energy costs and lower imports from fossil-based sources in neighbouring countries, thus contributing to a reduction of greenhouse effects.
Switzerland has supported the energy sector in Albania in the area of dam safety and infrastructure since the early 90-ies and is also considering energy efficiency as an area of intervention. /ibna/