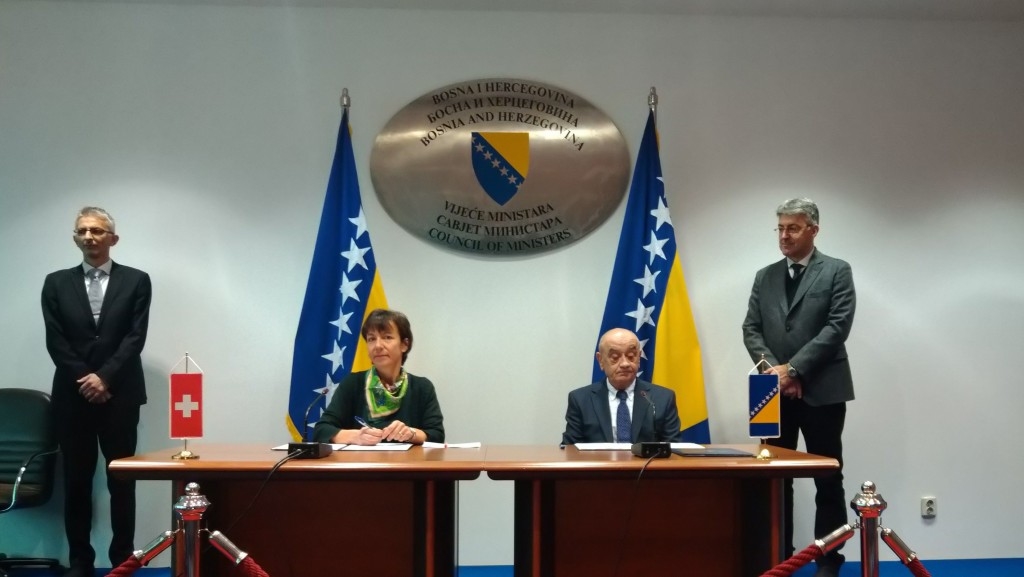 Minister of Finance and Treasury of Bosnia and Herzegovina Vjekoslav Bevanda and Swiss Ambassador to BiH Andrea Rauber Saxer signed a grant agreement worth about eight million BAM in Sarajevo today for an environmental project.
The project "Wastewater Collection and Treatment in Gradiška" envisages that activities within the project will continue to contribute to the protection of the environment in Gradiška and to improve life of the population of that region. As Gradiška is on the river Sava, which is the border with Croatia and flows to Serbia, the donation represents a regional project.
This grant, a "Swiss taxpayers' gift to residents in Gradiška and other residents along the Sava River", is secured for a project that the German Government had previously provided EUR 10.2 million.
Minister Bevanda emphasized the importance of such agreements, considering the fact that they are directly related to improving the lives of citizens and local communities, which is why he expressed hope that they will finish their work within the set deadlines.
Swiss Ambassador Andrea Rauber Saxer said the project shows what can be done if the local community is run by dedicated politicians, explaining that the grant is complementary to the funds allocated by the German Government for the same project.
"The allocated funds for the project are actually a gift for the planet as well, which was one of the motivations to help collect and treat wastewater because we want to ensure a clean planet for all", Ambassador Rauber Saxer added.
She noted Switzerland's contribution to ensuring clean rivers in BiH, and called on all BiH residents to care for natural beauty, because each individual can do much in protecting nature or combating pollution and contributing to less waste./ibna