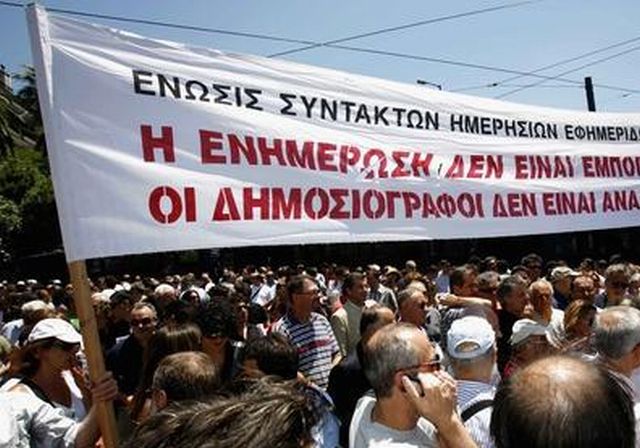 By Lefteris Yallouros – Athens
Greek journalists called a 24 – hour strike Tuesday morning protesting a draft law affecting media and advertising companies.
An amendment was brought to parliament last Friday night in a bill on Health issues which introduced sweeping changes to the framework within which the media operate.
Journalist unions argued that the bill would lead to concentration and layoffs in the sector. "The amendment allows media groups to merge with the excuse of reducing costs but in effect provides indebted businessmen a path to safety," the unions said in statement.
The amendment allows media groups to merge without restrictions on dismissals. Employees from the same group of companies will be considered employees of the same firm, thus allowing allowing media groups to bypass restrictions on layoffs.
Proponents of the new law respond that on the contrary it helps several publishing firms to keep afloat by uniting forces. Opponents say it will harm competition and will allow indebted media moguls to survive at the expense of employees and smaller media.
Main opposition SYRIZA labeled the provisions of the amendment "provocative" arguing that it allows mass dismissals in the media sector even though there are strict conditions for such sackings in other sectors of the economy.
The bill passed amidst criticism by unions and opposition parties that it opens the way for the concentration of media in the hands of few media moguls. New Democracy and PASOK votes were enough to see it through a parliament vote on Tuesday after SYRIZA and the Communist Party deputies stormed out in protest.
Media shops also strongly oppose the amendment as it allows the media to directly charge companies for advertisements, abolishing their 9.9 pct commission. Media shops will now be paid only by their clients directly. Media owners will also be allowed to set their own prices for adverts without media shops coming into the picture. It also allows broadcasters and publishers to keep applying the nuisance tax ("angeliosimo") which has to be paid by anyone advertising on their media. The tax goes towards paying employees' social security contributions.