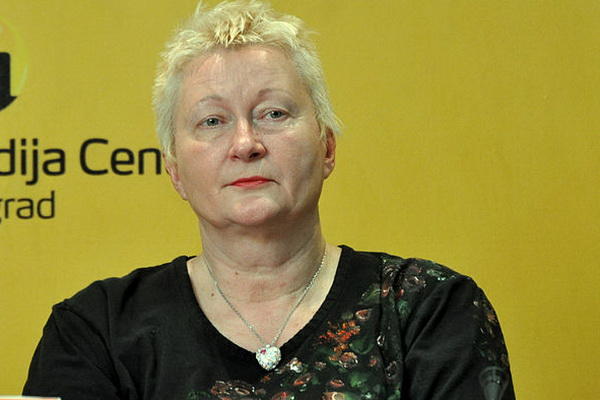 Athens, October 28, 2015/Independent Balkan News Agency
By Spiros Sideris
"Tito would never have insisted on the name 'Macedonia'. Tito would never have accepted the expression of nationalist views. And then he never showed any ambition for any territory or state, while his policy towards Greece was very friendly". A hypothesis it might be, but expressed by someone who is entitled to have an opinion on the matter, Svetlana Broz, the granddaughter of Tito.
Svetlana Broz recently went to Athens, where she participated in the international conference on "Religious and historical pluralism and peaceful coexistence in the Middle East", which was organized by the Greek Foreign Ministry. On this occasion she spoke to in.gr and Maro Vakalopoulou about her life, her work, the "stubborn" persistence of FYROM in its irredentist policy, but also for today's Bosnia and Herzegovina, "a state of three ethnic groups and not of its citizens", "doomed" to remain outside the European Union, as long as at its helm are the same people" who organized the war, signed the Dayton Treaty, who are constantly intimidating the people and who in reality are against the EU and against the change of the Constitution".
Although she avoids talking publicly about her grandfather – in an attempt to protect his memory – Svetlana Broz does not cease to be a woman who grew up in one of the most important political families in the world. And despite the fact that she rejects politics and is a humanist in her beliefs, socio-political concerns undoubtedly flow in her blood.
Cardiologist by profession, the granddaughter of Tito – daughter of his son Zarko – has devoted many years to the defence of human rights. For this reason she worked in the early years of the war as a volunteer in Bosnia and Herzegovina. For the same reason she made a relatively short "press trip", trying to gather testimonies of people who in those early years of the war experienced the goodness and were saved from the "enemy"; people of different ethnic groups.
But perhaps she is most proud of her work of Gariwo (Gardens of Righteous Worlwide), the NGO which has founded and directs and whose aim is to teach young people the value of civil courage. It is on this she has invested the most hopes for a non-violent change in Bosnia-Herzegovina, a country where, she says, "fear is the dominant sentiment": the fear that politicians in the country – "unfortunately, nationalists in the majority" – deliberately cultivate citizens.
Asked about the nomenclature and FYROM and whether her grandfather would have insisted on the use of the name Macedonia, Svetlana Broz's reply was:
"Tito never show any ambition for any territory or state and his politicy was indeed very friendly towards Greece. Although it is therefore very difficult to guess how someone would react in certain situations after 35 years, based on his policy, to me it is clear that we would never have insisted on the name "Macedonia".
I think it is not wise the policy of the current Macedonian politicians, whose name is even difficult to pronounce. In fact, I can't even understand their perseverance. They do not want to make efforts with Greece, other states in the United Nations or otherwise, in order to reach a consensus on a natural decision for a normal, mutually acceptable name for their country, which will not offend Greece.
But let me add one more thing about the fact that Tito would never have insisted on the name "Macedonia". By law in the former Yugoslavia, while Tito was president, it was clear that those who publicly expressed nationalist views, should have to be punished for them. When I was young, and as I was always democratic, I was opposed to this law in the sense that everyone has the right to talk about whatever they want. But when I saw how Yugoslavia was dismembered because of the nationalists, who nearly everyone – except for Milosevic – were punished under the law, I realized that maybe this was the right way.
If I ponder that law, then how could I believe that Tito would have accepted nationalist views? And modern politicians of the past 20 years, are unfortunately nationalists in their majority.