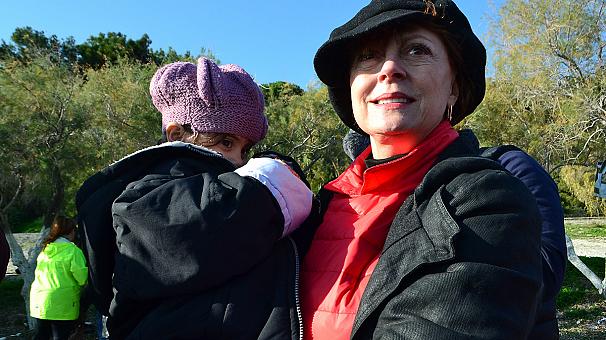 Athens, December 18, 2015/Independent Balkan News Agency
By Olga Mavrou
Famous actress and activist Suzan Sarandon is visiting Greece. The 70 years old actress is in the island of Lesvos in order to show her support for the refugees. She visited specific areas with the escort of Greek volunteers.
Sarandon is noted for her active support of progressive and liberal political causes and  has expressed her support for various human rights causes that are similar philosophically to ideas found among the American Christian left.
In 1999, she was appointed UNICEF Goodwill Ambassador. During the 2000 election, Sarandon supported Ralph Nader. During the 2004 election campaign, she withheld support for Nader's bid, being among several "Nader Raiders" who urged Nader to drop out and his voters offer their support for Democratic Party candidate John Kerry.
After the 2004 election, Sarandon called for US elections to be monitored by international entities. Sarandon with her ex partner Tim Robbins took a stance against the 2003 invasion of Iraq, with Sarandon stating that she was firmly against war as a pre-emptive strike. In 2003 she appeared in a "Love is Love is Love" commercial, which promoted the acceptance of gay.
In 2004, she served on the advisory committee for 2004 Racism Watch, an activist group. She appeared with Robbins and Jane Fonda at an anti-war rally in Washington, D.C. in support of a Congressional measure to withdraw U.S. forces from Iraq. In the 2008 U.S. presidential election, Sarandon and Tim Robbins campaigned  for John Edwards Sarandon was appointed an FAO Goodwill Ambassador in 2010.
On September 27, 2011, Sarandon spoke to reporters and interested parties at the Occupy Wall Street protest in New York City.  She is also an advocate to end the death penalty.