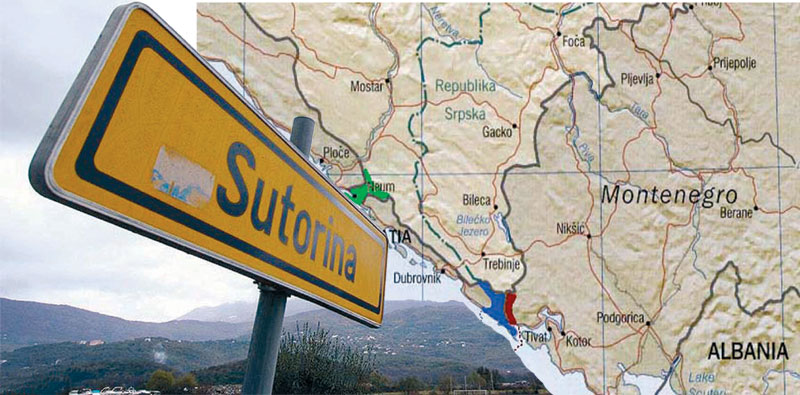 Sarajevo, March 11, 2015/ Independent Balkan News Agency
By Mladen Dragojlovic
BiH Parliament discussed on Wednesday the issue of the state border with Montenegro in the area of Sutorina, a small land on the Montenegro coast, which part of BiH officials and experts consider it to be a historical part of BiH.
Delegates in Parliament adopted one of the conclusions of the relevant commission that it is necessary to hear an opinion of experts on international law about this issue. The discussion represents a continuation of the attempt of BiH historians, who claim that Sutorina was a part of BiH until 1947 and that it must be returned to BiH. The matter was discussed on Tuesday, at the session of Council of the Congress of Bosniak Intellectuals. Their suggestion is that BiH Parliament, for the final determination of the borders with Serbia, Croatia and Montenegro, demand the borders to be determined based on the decision of the Berlin Congress in 1878, because the European "big states" had agreed on them at that time.
However, the number of international experts who warn BiH to leave Sutorina on its present status is increasing daily. One of them, professor of international law Francis Boyle, said for BiH media that raising this issue is very dangerous for BiH.
"It is crucial to respect the borders that were determined by Badinter commission, which means that they must be as they were in SFR Yugoslavia. If BiH insists on raising the issue of Sutorina, it will open a question of all BiH borders. If BiH continue with the Sutorina question, it is possible that this state will lose Neum. That is why I think that Sutorina question is existentially a dangerous threat to BiH, emphasised Boyle.
US analyst, Daniel Serwer, said that politicians in BiH must be warned that their citizens, as it looks now, will get into European Union much later than citizens of Montenegro.
"That is more important issue for BiH's future than the matter of Sutorina", said Serwer.
He added that the most important thing is to solve this question in peaceful and friendly manner, as in the case of other similar issues in the last several years. Serwer said that it is "very indicative" that US congressman Michael turner sent a letter to BiH Presidency member, Bakir Izetbegovic, about this problem and sent a law about sanctions to BiH if it doesn't recognise existing borders as they are.
Sutorina is an area of about 84,000 square meters with exit on the Adriatic sea in Boka Kotorska. In its seven settlements live about 1,600 citizens.