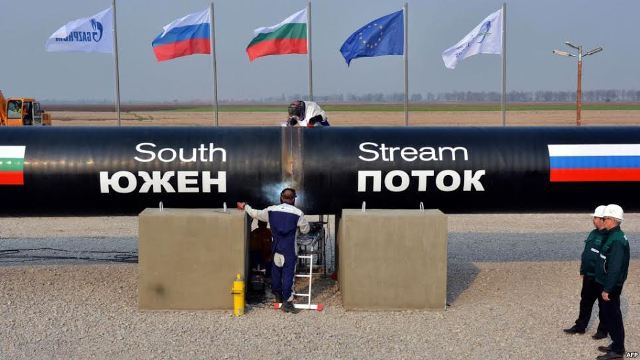 IBNA Special Report
Skopje, December 3, 2014/Independent Balkan News Agency
By Naser Pajaziti
After Serbia, FYROM was one of the countries that didn't give up on "South Stream" pipeline project, which was a Russian project, in spite of the calls of the European Union.
But, Moscow's decision to withdraw from this project was not expected by Skopje. Authorities in Skopje has been thinking for many months as to whether they should withdraw or not from "South Stream" project, although there was great pressure from Brussels.
But, the Moscow's decision to withdraw was bad news for Macedonian authorities as it was for Belgrade, where the Serb PM declared that "such decision is bad news. Serbia invested seven years for this project, but it's paying the price of the big disputes".
Number two of the government in Skopje, Zoran Stavrevski said that after the failure with the Russian pipeline, the government is working to find new alternatives.
"The future of South Stream is in the hands of Russia and EU and we don't have a say in it. We work, have worked and will work to find new alternatives. I believe that there are alternatives and that in the near future, the government will inform about the progress as far as finding new alternatives is concerned", said deputy PM Stavrevski.
European Energy Community demanded from Skopje several months ago to annul the agreement with South Stream with Russia.
Janez Kopac, head of the European Energy Community Secretariat had addressed two letters to Skopje in relation to the agreement between Russia and FYR Macedonia on South Stream, but he had not received a reply.
A while ago, the European Commission demanded from all those countries that had reached an agreement with Russian "Gazmprom" to harmonize these agreements with EU laws. This recommendation obliges Serbia and FYR Macedonia to do the same thing in the quality of the European Energy Community members.
Experts of international policies in FYROM say that Russia has an alternative plan for the pipeline and that it aims to delivering this project through Turkey. This is the opinion of University professor, Konstandin Dimitrov.
"The Russian plan aims at delivering the project through Turkey and this plan may even reach the Greek border, but the issue is whether Greece will allow this project to go through this country. Then, there's the alternative of extending the project through the Greece-Macedonia-Serbia route or from Turkey to Western European countries, avoiding Western Balkan. In spite of the plans which have been made, they do not depend on Macedonia", declared Dimitrov.
South Stream pipeline should have carried gas through the Black Sea in the Balkan and then to Central and Western Europe. The project has a value of 16 billion Euros, while the first amounts of gas have been planned to be delivered in 2016. On July 23, 2013, FYROM signed an agreement with Russian federation in order to be included in South Stream Pipeline. /ibna/