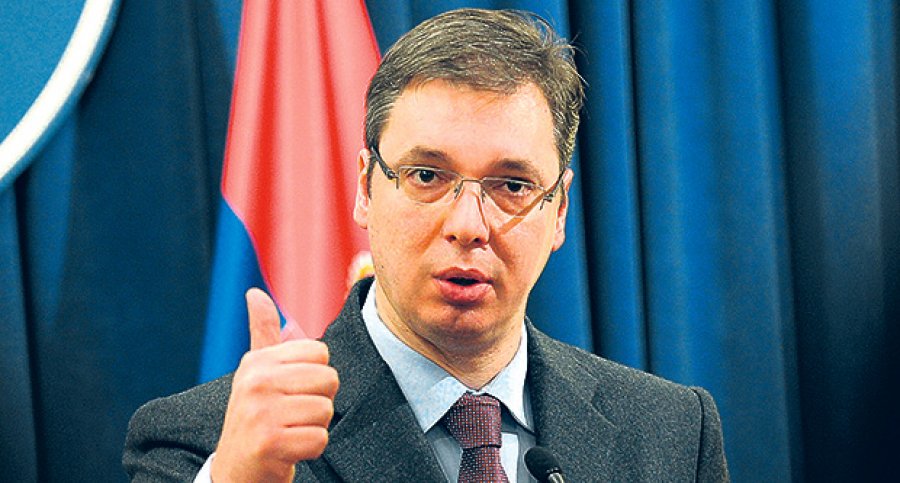 By Milos Mitrovic – Belgrade
Serbian Deputy PM Aleksandar Vucic`s Serbian Progressive Party (SNS) would win 52,3% of the votes at early general elections on Sunday, "ProPozitiv" agency survey showed. Three other parties would also cross the five percent threshold to enter the Parliament – the current Prime Minister Ivica Dacic`s Socialist Party of Serbia (SPS) with 10,2%, Liberal Democrat Party (LDP) with 5,7 percents and Euro-skeptical Democratic Party of Serbia (DSS) with 5,5%.
If the results of the survey turn out to be accurate, the elections would be true disaster for Dragan Djilas`s Democratic Party (DS), the main opposition group in Serbia which has been in the Parliament since 1990. At the same time, Vucic with his enormous popularity would marginalize DS just like he did to his former ultra-nationalistic Serbian Radical Party (SRS) at the 2012 elections. Namely, when Vucic and current Serbian President Tomislav Nikolic came into conflict with SRS leader Vojislav Seselj – who is tried for war crimes in the Hague since 2003 – by adopting pro-European rhetoric and founding SNS, the group has lost all of its seats in the Parliament.
"Serbian Progressive Party will take absolute responsibility for the glory and success (of the next government) or absolute responsibility – in Serbia this means criminal responsibility – in the case of failure", sociologist Srecko Mihailovic from "ProPozitiv" wrote in his article for "Danas" daily.
The phone survey conducted from March 6 to 9 queried 1.409 voters. "We have acknowledged the voting preferences of 63 percents of respondents, and we couldn't learn the positions of 37 percent of citizens", Mihalovic emphasized.
SPS was the only single group to win the absolute majority at the elections  in 1990. It was led by Slobodan Milosevic at the time. It secured 194 parliamentary seats out of 250. In 2000 "Democratic Opposition of Serbia" coalition won the 176 seats out of 250. Vucic owes his enormous popularity to his anti-corruption campaign with tycoon Miroslav Miskovic`s 2012 imprisonment at its zenith, although some opposition groups complain on media control and "atmosphere of fear", as DS suggests.
"The country's fight against the corruption is supposed to receive widest media attention. And that is the field where Vucic has been very successful in last 18 months… Vucic also knew how to make use of the media in the process of accusing DS party members. In each separate case, Vucic was creating media hype, organizing large conferences in which details from the investigation were revealed. This was something that Serbia loved", political scientist Zoran Vuckovic wrote in his comment for neweasterneurope.eu published on Monday.