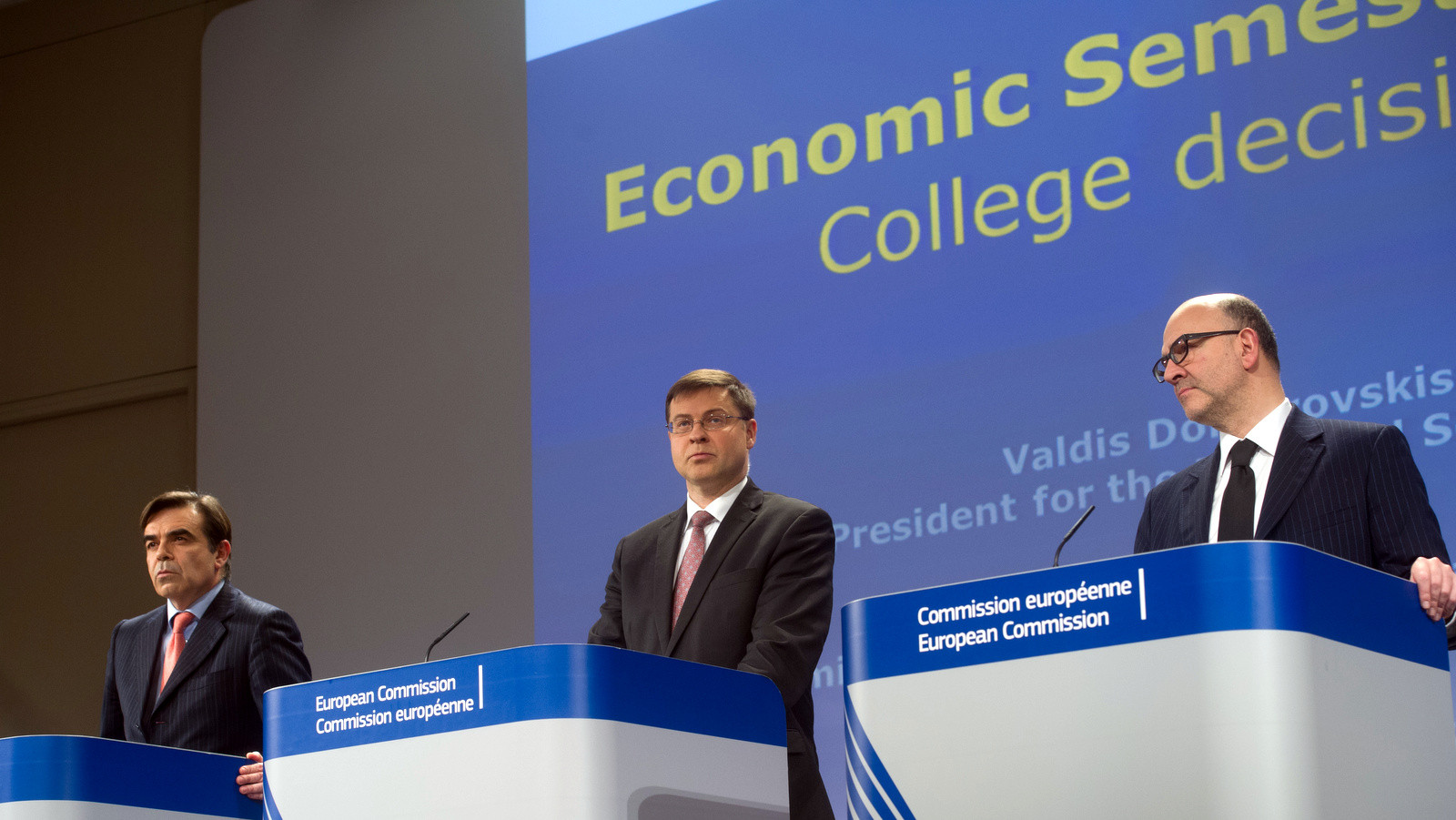 A message that Greece with surpluses will be able to either reduce taxes or finance social programs sent by European Commission Vice-President Valdis Dobrovskis after the conclusion of yesterday's consultation of the college of Commissioners and the executive decision to activate the legal mechanism governing execution of Enhanced Surveillance, which will enter into force for our country from August 21st on, while the Commissioner for Economic Affairs, Pierre Moscovici, has repeatedly reiterated that the Memorandum monitoring is not a fourth program. According to the Commission's text, there are foreseen quarterly missions of the institutions and reports on the basis of which the underlying debt measures will be applied (only the part of the 4.8 billion profits return of European central banks). 
"From August 20th, Greece will rely on its own strengths", said Commission Vice-President, Valdis Dobrovskis, stressing that it is important for Greece to pursue prudent fiscal and macroeconomic policies as well as the completion of the agreed reforms. Valdis Dobrovskis stressed that enhanced surveillance will be combined with the circles of the European semester and will take the form of regular supervision when the time comes. He also added that regular supervision would remain in effect even when 75% of Greece's loans were repaid, which is true of other countries found in a memorandum.
Pierre Moscovici: There are no new commitments
For his part, Commissioner for Economic Affairs, Pierre Moscovici, once again clarified that "enhanced surveillance" is not a fourth program, as it does not entail any new commitments or conditions, but aims at completing and implementing the reforms already under way. "Supporting the opposite is like playing against his team," he said, noting that "Greece's efforts have been recognized by all eurozone countries and all institutions."
Moscovici said that with the end of the program, Greece will be more liberal in its public finances and will be subject to the same coordination measures for European policies, the so-called "European semester". At the same time, like all the countries that come out of an adjustment program, Greece will be supervised by the European institutions and the IMF.
"Outpaced" by the IMF
The Commission and ECB will be involved in the quarterly evaluation missions, while ESM will exercise parallel oversight under the Early Warning System (enhanced surveillance is expected to expire at most 2022) and will continue to oversee the IMF economy and cluster. It is noteworthy that the strength of the Fund is weakening in Greek affairs. As stated, Regulation No. 472/2013 stipulates that the Commission shall undertake enhanced supervision in consultation with the ECB and, where appropriate, the IMF.
Return of gains from bond yields
Part of the reports to be drawn up will be part of the "normal" surveillance system of all the member countries of the Eurozone (European Semester) twice a year, but these reports will have a greater specific weight. It is reported as follows: "The activation of policy-dependent debt-based measures (including the U.S. $ 4.8bn profit from central bank bonds) agreed at the Eurogroup meeting on June 22 will be based on positive reports to be drawn up under the enhanced surveillance framework…. / IBNA