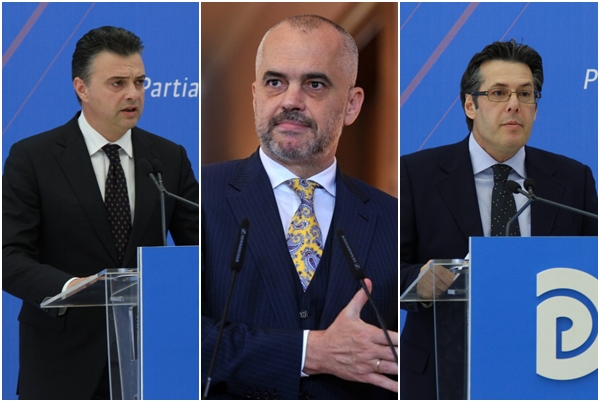 Tirana, 5 June 2015/Independent Balkan News Agency
In Albania, Supreme Court decided to issue a fine against two MPs and senior officials of the Democratic Party following a lawsuit for defamation and insult by PM Edi Rama. The same decision says that the court finds the two democrat MPs guilty of insult.
The Court issued 200 thousand ALL (around 1500 Euros) worth of fines for each MP, namely Edi Paloka, head of the Parliamentary Group of the Democratic Party and Arben Ristani, Secretary General of the Democratic Party.
The decision came after the denouncement made by the head of the majority, Edi Rama, who accused the two opposition officials of having libeled in public declarations when they accused him of ties to crime.
Edi Paloka MP declared after the ruling that he understands the situation under pressure where the Supreme Court finds itself, adding that he doesn't accuse it.
"Like we have said before, we obey to the decisions of the court, regardless of how we view them, fair or not", Paloka said.
"To be honest, I didn't expect this decision. I was hoping for the Supreme Court not to be part of pressure", he added.
PM Edi Rama's lawyer, declared that the lawsuit was filed for "Defamation for individual reasons" and not due to the office. She further said that she's unhappy with the trying of the case in essence.
The penalization of the two senior opposition leaders was followed by PM Edi Rama's reaction. He considered this as good news for three reasons.
"First of all, because public opinion learned from a third party, from the Supreme Court of the country, that the accusations addressed toward me by these people, according t which I am connected with criminals, are mere defamation and nothing else.
Secondly, because this lowly game, which has often made politics really obnoxious, has turned politicians in buffoons in the eyes of the citizens and today, this is no longer goes unpunished. When one defames, like the two people in question did, one must take into account the legal consequences.
Thirdly, today's ruling is good news, because we point out the need for the criminalization of defamation as an instrument of political war", Rama suggests.
This is the first time that two senior officials of the main political parties in the country, face such court rulings in Albania. /ibna/
On the picture: From left to right, Arben Ristani, Edi Rama, Edi Paloka