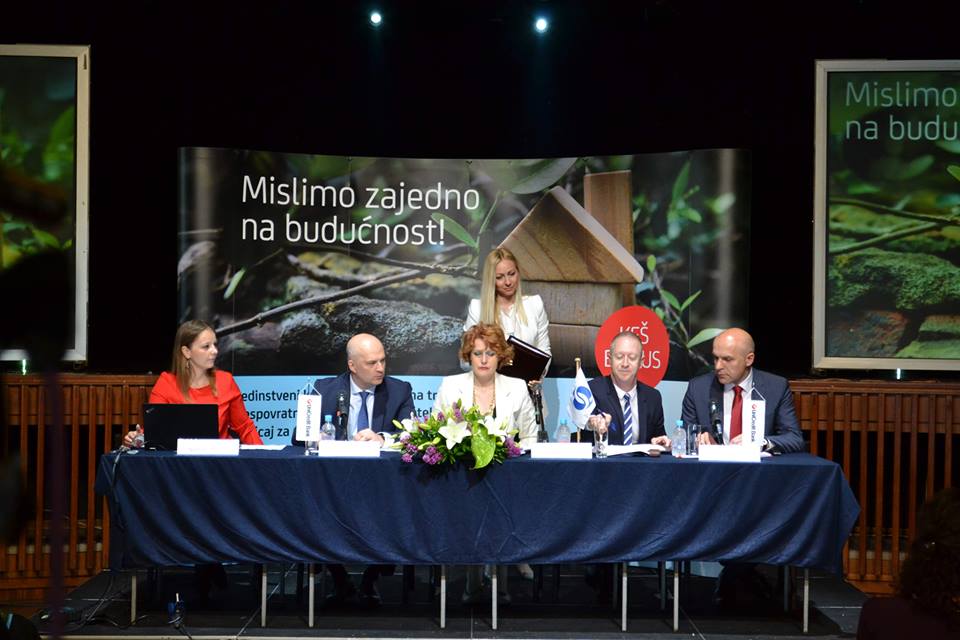 Unicredit bank branches from Mostar and Banja Luka, with the support of the European Bank for Reconstruction and Development held a joint presentation of a new credit line for projects of energy efficiency in households in BiH.
This is the first time that EBRD extends this type of loans on Western Balkan countries and BiH is the first to receive this kind of support.
"The conditions of loan are better than in other credit lines we offer to citizens. Something completely new in this case is the possibility that the bank will return part of the credit amount if beneficiaries can offer evidence that they purchased energy friendly building materials. As evidence the Bank will accept bills or even just photos of the fiscal bill", said for IBNA Marina Marjanovic-Stupar, media officer of Banja Luka Unicredit bank.
She added that the amount of returned part of credit, as they calculated, in some cases will cover the bank interest of the loan.
Unicredit Banja Luka will receive five and Mostar seven million euro of loans. EBRD decided to support energy efficiency investments in Balkan countries since this sector is the largest energy consumer in terms of share of total final energy consumption in the country. These loans are provided under the EBRD Green Economy Financing Facility, which is being launched to support residential energy efficiency investments in the Western Balkans.
"The funds will finance urgently needed investments in the residential sector to reduce energy losses and improve energy efficiency through the modernisation of existing apartments and buildings. Examples include high-performance domestic appliances, energy efficient windows and glazing, thermal insulation, energy efficient boilers and many more", EBRD announced.
"We are proud to extend these loans to Unicredit Bank Mostar and Unicredit Bank Banja Luka as our first partners under the programme. This will send a strong signal to the market where the demand for energy efficiency investments is huge, yet largely unfulfilled. Improvements in this area will benefit the environment as well as residents who will enjoy better living conditions at lower cost", said EBRD Director for BiH, Ian Brown.
CEO of UniCredit Bank d.d. Mostar, Dalibor Cubela,  said that UniCredit Bank, as a leader in the market, has an important role in improving its services, bringing our clients the best products and offers.
"We recognise the importance of  energy efficiency and Green Economy Transition and we are very honoured to be the first in the market to offer loans which will save money for our clients and ensure us all a brighter and healthier future", Cubela said.
His partner at the Bank, CEO of UniCredit Bank a.d. Banja Luka, Gordan Pehar, explained that UniCredit Bank Banja Luka supports energy efficiency projects. Pehar stressed that the energy efficiency loan aims to help educate the market in energy saving and to influence the awareness of energy efficient materials, and moreover to make these materials available on favourable terms. "We are pleased that we are recognised by the EBRD as a socially responsible company and a partner in the project of energy efficiency", Pehar added.
Since the beginning of its operations in BiH, the EBRD has invested more than two billion euro in almost 140 projects in the country./IBNA