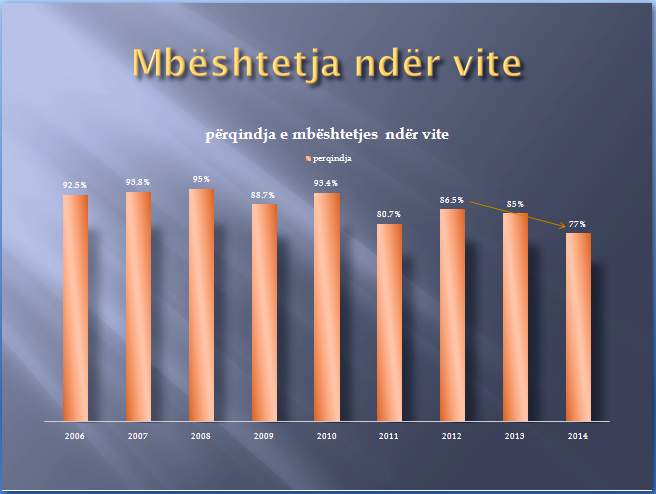 IBNA Special Report
Tirana, June 11, 2014/Independent Balkan News Agency
For the first time in Albania, there's a serious drop of the percentage of support toward the integration in the European Union.
Albania is known to be the only country in Europe with the highest support for EU integration throughout the years.
But, in the recent months, this support has significantly dropped. In the '90s, 95% of population supported EU integration, in the '00s it was 90% and in 2014, the support for the integration of Albania in the EU is 77%, as opposed to 85% last year.
These data came as a result of a survey held on the European perspective of Albania, which was held in the past two months in 12 districts of Albania and with the participation of 1.200 respondents.
The survey was conducted by the Institute for International Studies in April. The results were issued yesterday, a few days before the EU takes a decision about the candidate status, following the positive recommendation of the European Commission.
Around 30% of people believe that EU accession has a vital importance for Albania, while another 50% say that this year, integration is an important step, but not a vital one.
Half of the respondents declared that the EU made a good decision in December when it refused Albania's candidate status.
Around 70% of respondents said that the government and Albanian politics are the main responsible factors in this.
Among the main causes for the December postponement, respondents mention the poor level of the rule of law and high level of crime and corruption.
Around 50% hope that Albania will be granted the EU candidate status in June, while 30% responded "no".
People are aware of the fact that Albania is not yet ready to become an EU member country. Over 54% of them claim this.
Over 40% of respondents demand from the EU to integrate Albania, although it hasn't yet met the standards.
The majority of them expect more new jobs from the European Union accession, better standards of living, law and democracy and less corruption and poverty.
Meanwhile, those who are against the accession say that the EU is currently suffering an economic crisis and that this would damage Albania with price increases, weakening of Albanian business and foreigners could get the best jobs, because they're more qualified.
The majority of respondents believe that accession cannot happen before 2020. /ibna/