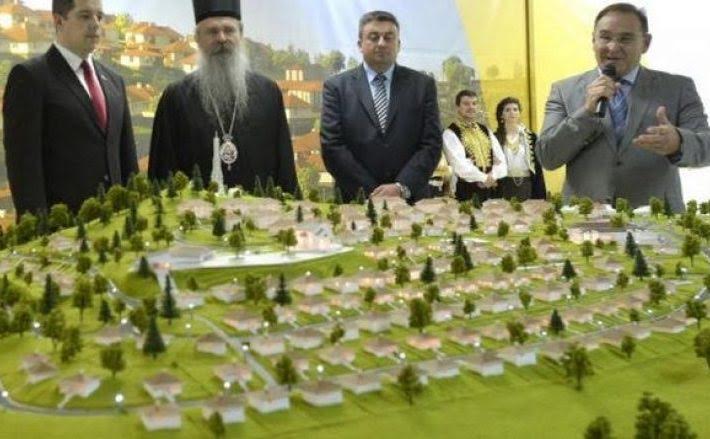 Pristina, 14 June 2016/Independent Balkan News Agency
By Elton Tota
Authorities in Kosovo have intensified their criticism against the "Sun Valley" project, which consists on the construction of 300 homes in the North of Kosovo.
According to them, the project which is funded by the Serb government is political and it aims at changing the structure of population in the north of Kosovo.
Minister for Dialogue, Edita Tahiri says that the colonizing project will be stopped with the strength of the law.
"Such projects like the one for the construction of this quarter, means to intervene in Kosovo's affairs. Such projects are political and aim at changing the structure of the population in the northern part", she says.
Deputy speaker of parliament, Xhavit Haliti says that such plans in the north of Kosovo aim at carrying out ethnic cleansing.
He demands from government's institutions to act promptly and stop this project which can cause destabilization of the country.
"I am convinced that there are bad intentions for the north of Kosovo. Prompt action must be taken", he says.
Meanwhile, prominent analyst Vilhard Shala told IBNA that the project in question aims at dividing Kosovo.
"Serbia is planning to fill the north of Kosovo with Serbs. This is a step toward the division of Kosovo. With the construction of Sun Valley and the colonization of that part by Serbs, double and unfair standards are being applied, as Albanians are not being allowed to return to their properties in the north", Shala says.
According to him, Kosovo needs another government which removes Serbia from Kosovo and establishes law and order in all of its territory.
Representatives of the Serbs in the north of Kosovo have declared that the construction of 300 new homes which has started days ago with the laying of the foundation stone by the head of the Kosovo office at the Serb government, Marko Djuric, will begin in spite of the objections of the government in Pristina.
The head of the Temporary Authority in Zvecan, an institution created by Belgrade, Ivan Todosijevic says that it is up to Pristina to show its good will to issue permission for the construction of these homes.
"The foundation stone has been laid. If Pristina had good will, it would issue a permit, but we have seen in the past 17 years that Pristina has never showed good will in order to help the return of the Serb population in Kosovo and Metohia", says Todosijevic, accusing central authorities in Pristina for attempting to prevent this process.
Around 300 homes have been planned to be built with a fund allocated by the Serb government in a valley between Northern Mitrovica and Zvecan. Serb politicians say that the construction of these homes aim at bringing back around 1500 Serbs who were displaced after the war in Kosovo. /balkaneu.com/