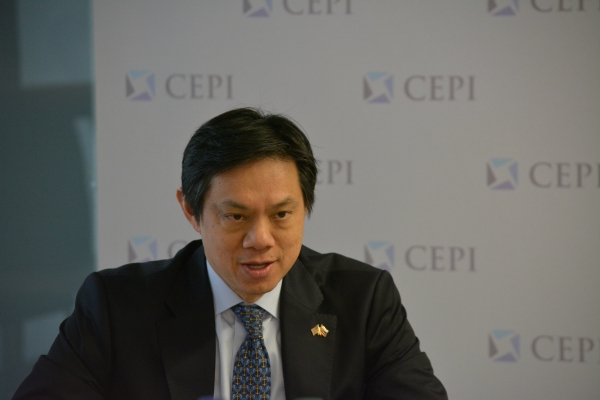 By Daniel Stroe – Bucharest
Leaders of Romanian political parties went to the US Embassy in Bucharest last night to meet an American diplomat, with talks focused mainly on corruption and the risk it poses to the national security amid dramatic events in neighboring Ukraine.
Hoyt Yee, deputy assistant secretary in the State Department's Europe and Eurasia Bureau, met with leaders of parties across the spectrum. In a press release before the meeting, the US Embassy in Bucharest said Yee was travelling across the region in a routine visit and will meet Romanian political leaders to discuss aspects related to bilateral cooperation and the strategic partnership between Romania and the USA.
Over the evening, the US diplomat also met with high ranking officials of the Ministry of Foreign Affairs, while the Romanian Foreign Minister, Titus Corlatean, is on a two day visit to Washington.
The US official's visit comes shortly after secretary of State John Kerry criticized, in a speech delivered in February, what he calls a "disturbing trend" among governments in eastern and central Europe to "trample the ambitions" of their people. Speaking at an international security conference in Munich, Germany, Kerry said: "The aspirations of citizens are once again being trampled beneath corrupt, oligarchic interests — interests that use money to stifle political opposition and dissent, to buy politicians and media outlets, and to weaken judicial independence and the rights of non-governmental organizations."
Kerry's remarks came just a month away from a stormy visit to Bucharest of Victoria Nuland, Kerry's assistant for Europe and Eurasia Affairs, whose presence coincided with talks in the Romanian Parliament on a controversial law on amnesty and some amendments brought to the Penal Code which would have shielded lawmakers from corruption charges. USA takes a great interest in the independence of justice, development of the rule of law and transparency, she told Romanian leaders then.
Early April, Nuland also sent out a message saying the United States will focus on the fight against corruption in Central and Eastern Europe in order to help countries in the region have a clean government, an independent media and a strong civil society.
Speaking to Mediafax last night, Hoyt Yee pointed out countries in the region, including Romania, have to cope with oligarchs and companies which, against the backdrop of weak state institutions, can buy their way into controlling key institutions and even the state. Countries with weak institutions and without a fully independent justice are vulnerable to actions such the ones Russia is currently resorting to in Ukraine, Yee also warned. The US diplomat underlined such discussions are now taking place with all the allies across Europe.