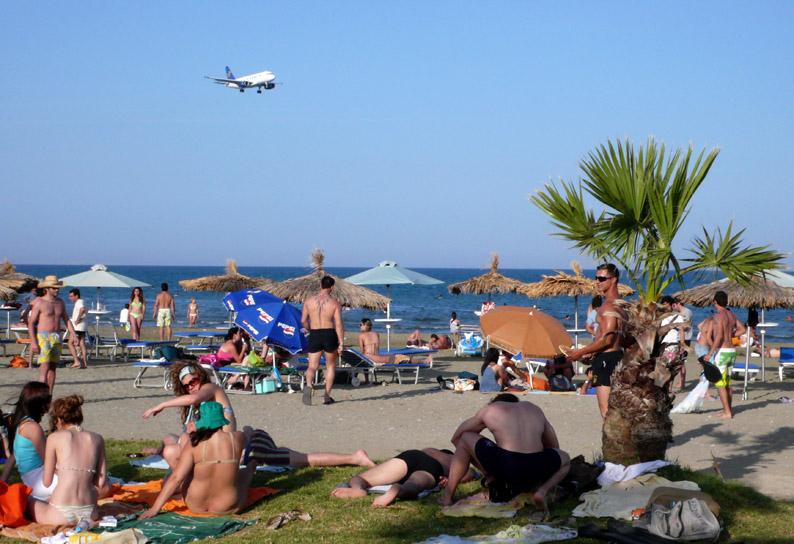 By Christos Meliopoulos
A mixed picture has been emerging regarding this year's tourism performance in Cyprus, following the inevitable concerns in the wake of the banking crisis and its aftermath. The industry braced itself for a bumpy year, but the overall performance may be determined by factors other than the uncertainty caused by the recent developments.
Back in March travel analysts GfK duly reported a 43% shrinking of bookings from the UK, the crucial market for the anglicised in terms of many resorts island. But ABTA (Association of British Travel Agents) says that Cyprus could be "pulling a Greece", referring to last year's late summer surge in tourist arrivals from Great Britain to the crisis stricken country, following a significant drop due to violent demonstrations in Athens. "All Cyprus needs to do is show that its famous resorts are still there operating," says Sean Tipton, ABTA's spokesman and an experienced analyst, pointing to the British regiment of tourists loyal to Cyprus.
The manager of one of the relatively few tour operators in the UK offering customised services to Cyprus does not share the same optimism. As he explains to IBNA, Cyprus has never been a champion of late bookings and the picture so far has been far from encouraging. "Tour operators have been all but destroyed by the official Cyprus policy which favours no-frills airlines. Now it's only Thomas Cook and TUI working in that area. Good luck finding a low cost ticket with these low cost airlines," he laments.
The mixed outlook is reflected in the big airlines' priorities. British Airways has announced it will extend the flight schedule between Paphos and Gatwick until November, while at the same time 10th May saw the last direct Aegean Air flight between London and Larnaca for this summer (although admittedly the suspension owes to time slots renewal glitches).
The other major market is also a riddle. The charter-based tour operator model that Russia has been following has unquestionably multiplied the importance attributed to the vast country's influence in Cyprus's tourism performance. Russian grievances over the bank deposits raid have put this year's arrivals in doubt. But according to reports, travel agencies and tour operators in Russia have not really been hit with cancellations as one might have feared.
Apart from all that of course Cyprus has to stave off the decisive comeback of rivals such as Egypt and Tunisia, old "foes" like Greece and Turkey, and newer threats in Croatia and Dubai.