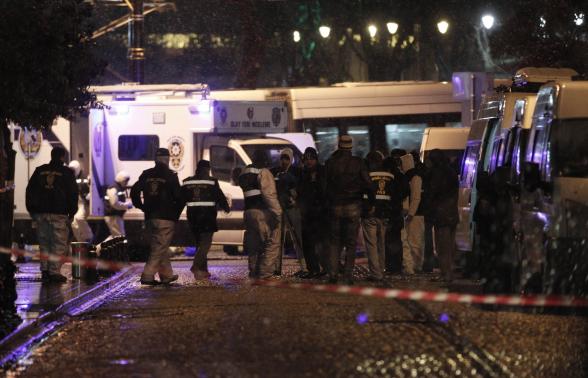 Ankara, January 6, 2015/ Independent Balkan News Agency
By Manolis Kostidis
Within walking distance of Hagia Sophia
A suicide bomb attack took place in Istanbul, which resulted in one policeman dead and another wounded.
The attack was carried out by a female suicide bomber who was belted with explosives, which she triggered in front of a police station in one of the busiest districts of Istanbul, in Sultanahmet near Hagia Sophia.
Immediately after the explosion, panic prevailed, as there are fears for similar attacks by other suicide bombers. The Turkish police has moved tourists from the district and stopped all tram schedules.
According to eyewitnesses, the suicide bomber walked into the police station and speaking English said she lost her purse and immediately after that activated the explosive device.
Turkish police is taking extraordinary measures for possible terrorist attacks on tourist targets.
So far no organization has claimed responsibility for the attack.
Last week, a man, member of the terrorist organization DHKP-C, had thrown grenades at Dolmabahce palace, but they did not explode. The perpetrator was apprehended by the police.
photo: reuters.com