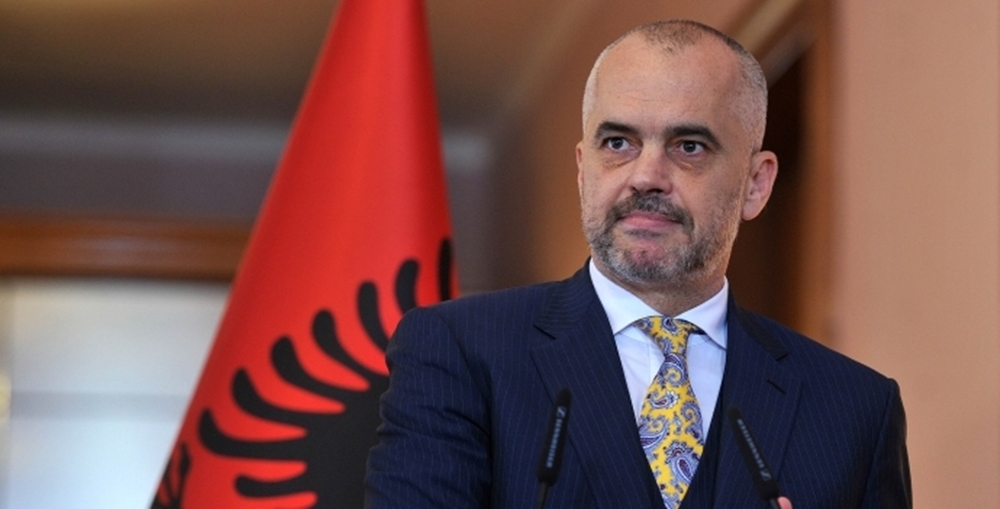 Special Report by Edison Kurani
Prime Minister Edi Rama had declared in several occasions that he would make a cabinet reshuffle, but he had never taken a decision.
His hesitation came to an end this Friday when he announced a reshuffle of the cabinet that he's been chairing for over six years.
This sort of reshuffle was unexpected, especially for some of the names which were considered key for Mr. Rama's government.
The most important changes are the ones concerning the Ministry of Foreign Affairs, Economy, Finance and Transport.
What's surprising about these changes is the fact that Rama has removed those ministers whom he considered to be as the best ones. For nearly six years, every time he used to make decisions and even when he was voted for a second term in office, these ministers were not changed by him.
Now it looks like Rama can no longer work with them, therefore he discharged them.
Bushati-Cakaj
In these six years as Foreign minister, Ditmir Bushati launched a joint effort with Greece to reach an agreement which even to this day has not yet been finalized. And to this day, many of the issues which were supposed to be addressed between the two countries, have not yet been solved.
During the most part of his period in office, Bushati focused a great deal on this draft-agreement. Media attention as far as the Foreign Ministry and Bushati's work has also been focusing on the relations with Greece, leaving many other aspects on the shadow.
Gent Cakaj is the new minister who will lead the ministry of Foreign Affairs starting from January 1. He comes from Kosovo. For a period of time he served as advisor to PM Edi Rama and this summer, he became the third deputy minister of Foreign Affairs, among the four deputy ministers working in this ministry.
Former diplomatic advisor to the Albanian PM, in July when he was appointed deputy minister of Foreign Affairs, Gent Cakaj was also appointed by Rama as head negotiator of the launch of Albania's accession talks with the European Union.
From summer until now, Albania could open the negotiation process in two occasions, but on both occasions, the EU decided to keep its doors closed, by leaving a window of opportunity in order for this process to start next summer.
We just need to wait and see what Cakaj will be able to achieve in his two main challenges, the almost finalized deal with Greece and the start of accession talks with the EU.
Mesi-Braçe
Prime Minister Edi Rama has trusted the post of the deputy Prime Minister to Senida Meksi, who was not a prominent figure in political circles.
This post remained an honorific post, because Rama was mainly in charge of the cabinet. Mesi has only presided a few meetings, in which routine decisions have been approved.
Mesi is replaced by one of the oldest MPs of the Socialist Party. Erion Braçe, former editor in chief of the Socialist Party newspaper, "Voice of the People", has been appointed by Rama in charge of holding talks with students who are protesting for financial reasons.
Braçe is known to be one of the fewest MPs of the Socialist Party who openly opposes the Prime Minister and who often disagrees with the decisions taken by the government.
Now, he has a golden opportunity not to voice his criticism publicly, but prevent the problems within the government that he will jointly lead for the next three and a half years.
Ahmetaj-Denaj
Arben Ahmetaj remained in the government and faced every uncertainty. Many considered Arben Ahmetaj like Ridvan Bode, former Finance Minister during Berisha's government. Berisha was not very fond of him and he used to express this, but Bode was necessary for Berisha, who sometimes was more optimistic than he should have.
The same thing has also happened with Ahmetaj. He did not leave his post and Rama merged two of the most important ministries, Finance ministry and the ministry of Economy, by appointing a single minister, Ahmetaj.
Now that Ahmetaj leaves the government, Rama has appointed him in charge of the party's campaign for the local government elections in Shkodra.
Ahmetaj is replaced by Anila Denaj, an unknown figure in the Albanian political class.
A few months ago, in September, Anila Denaj was appointed as the head of the Healthcare Fund, which is considered to be a very important institution. Before this, she used to hold the post of the member of the Board of Directors of the Authority for Electronic and Postal Communications.
Gjiknuri-Balluku
One of the important ministers in Rama's government was Damian Gjiknuri, who was in charge of the ministry of Transport and Infrastructure. These are two of the most important sectors for Albania. In the past six years, very few things changed, while some things were chaotic.
The dual carriage way linking Tirana to Durres never turned into a highway and traffic congestion there is often chaotic, not to mention the fact that the road is flooded every time there's heavy rain.
The road was filled with palms, although it was known that the capital's climate was not suitable for such trees. These trees cost a lot of money, but in a matter of months they went dry. The government never attempted to replace them. Meanwhile, the road was in need of expansion. Instead of doing this, the ministry made space for palm trees and grace, limiting the possibility of adding extra lanes.
A few years later, it announced an international tender for the expansion of roads and to add more lanes (!). The same thing also happened with the road linking Durres to the beach area. Once Gjiknuri was appointed as head of this ministry, he reconstructed the road. The positive thing about it was that more lanes were added and parking spaces were created, because they were very important for the large number of businesses and hotels operating in that area.
But, only a year after its inauguration, the road was destroyed and the lanes disappeared. Pavements were introduced and a single lane was left on each side (!)
The icing on the cake for this ministry is the national road linking Tirana to Elbasan. This was a very important road for half of the country, for Albanians living in FYROM, tourists coming from the Balkans and those who used to travel to and from Greece.
In 2012, former PM Sali Berisha announced the construction of this highway, a very ambitious project for a country such as Albania. For years, Albanians were obliged to drive in miserable roads and it looks like this situation continues even today.
Half of the road, including the 3 km tunnel, were completed in a year. In 2013, when Gjinkuri was appointed minister, he made a lot of promises for the completion of this road. This is yet to be seen (!)
In the past six years, many roads have improved, but many others have remained in miserable conditions, often being the cause of accidents and claiming lives of innocent people.
Gjinkuri is being replaced by the new minister, Belinda Balluku, who is currently head of AlbControl.
Nikolla-Shahini
Lindita Nikolla led the ministry of Education for a period of six years. Nikolla is known as the sponsor of the law on Higher Education and is remembered about the fact that she shut down many private universities. She also changed the entire high school system. However, there've been pros and contras for all of her decisions.
Nikolla has been replaced by Besa Shahini. Like Cakaj, Shahini also comes from Kosovo. Shahini was born in Pristina in 1992. She has had a rich professional career in Kosovo, Germany and Canada. In 2016, Shahini established an organization called Plenum for Education, focusing on research and analyses of the pre-university system in Kosovo. Shahini is fluent in English, Serbian and she also speaks French and German.
Peleshi-Çuçi
Niko Peleshi started his career as prefect of Korça. A year later he won the elections as mayor and was elected for a second term. During the second term in office, Rama took him as deputy PM. Peleshi's career started to become uncertain when Rama removed him from the post of deputy Prime Minister last year, although he was regarded as the most trusted man of his cabinet. Instead, Rama appointed him as minister of Agriculture, a post from which he removed him today.
By removing Peleshi, Rama has brought back Bledi Çuçi, who in 203 was appointed as minister of State for Local Government Affairs.
Kumbaro-Margariti
Mirela Kumbaro was one of the figures that Rama was the fondest of. She remained in this long in this post, however, we cannot say that she excelled. Some of the initiatives of this ministry sparked many debates and she was often involved in strong debates with people of art and culture.
Kumbaro has been replaced by Elva Margariti, who is currently advisor of the Prime Minister and coordinator of the "100 villages" project. Margariti has not been a political figure either.
Qato-Shalsi
The Prime Minister has also removed the minister for Enterprise, Sonila Qato. This was a new ministry whose job was to protect businesses. So far, very little has been heard about the work of this ministry.
Meanwhile, Qato will be replaced by the socialist MP, Eduard Shalsi. Shalsi is one of the most prominent figures in the parliamentary debates of the left wing majority.
Elisa Spiropali
The Ministry for Relations with Parliament was a post that Rama introduced in his first term in office, however, he decided to remove it in the second term.
Nevertheless, it is not yet known why the need has risen to bring this ministry back again. This ministry will be led by Elisa Spiropali, former chairwoman of the youth forum of the Socialist Party and then head of Albanian Customs.
The reshuffle may continue
On Friday, when Edi Rama announced the cabinet reshuffle, he also warned two other ministers, targeting the minister of Health and Labour: "Ogerta Manastirliu is well aware of what she has to do in the next six months. Blendi Klosi too needs to prove himself by June", Mr. Rama said.
The full list of the ministers who are leaving and those who are coming
Deputy Prime Minister
Senida Mesi leaves-Erion Braçe arrives
Minister for Europe and Foreign Affairs
Ditmir Bushati leaves-Gent Cakaj arrives
Minister of Economy and Finance
Arben Ahmetaj leaves-Anila Denaj arrives
Minister of Infrastructure and Transport
Damian Gjinkuri leaves-Belinda Balluku arrives
Minister of Education
Lindita Nikolla leaves-Besa Shahini arrives
Minister of Agriculture
Niko Peleshi leaves-Bledi Çuçi arrives
Minister of Culture
Mirela Kumbaro leaves-Elva Margariti arrives
Minister for Enterprise
Sonila Qato leaves-Eduard Shalsi arrives
Minister of Relations with Parliament
A ministry which returns as part of the cabinet
Elisa Spiropali is appointed as minister