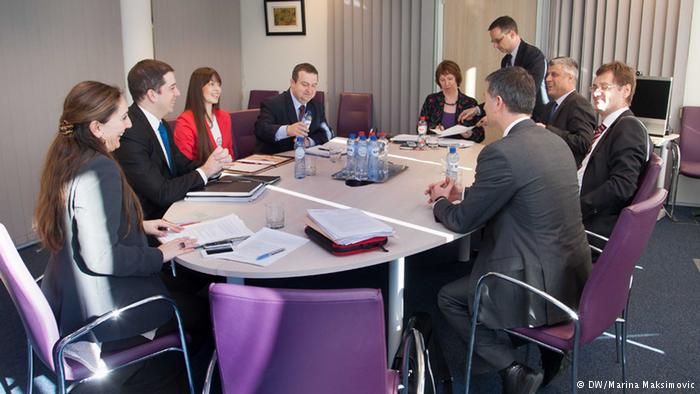 Pristina, March 23, 2015/Independent Balkan News Agency
By Elton Tota
The government of Kosovo has submitted today to the European Union the report on the progress of the Brussels talks and the process of the implementation of agreements for the period 1 October 2014-20 March 2015.
This report presents the evaluation of the government of Kosovo about the progress and challenges of the process of the implementation of the agreements signed as part of the dialogue for the normalization of relations between Kosovo and Serbia and the technical talks brokered by the European Union.
Minister and head of the delegation of Kosovo in the Brussels talks, Edita Tahiri said that the talks may fail if the agreements between Belgrade and Pristina are not implemented.
"The government of Kosovo wants to stress that the implementation of agreements is everything that counts for the full success of this dialogue. We praise the facilitation that is offered by the European Union and the guarantees for the results of the dialogue and the full support of the United States on this. However, we strongly believe that the policies for the assessment of performance and the consecutive stimulus for both countries in their Euro integration path, are necessary in order to secure the progress required in the dialogue", she declared.
Meanwhile, analysts believe that the government of Kosovo must amend its approach to dialogue with Serbia if the agreements reached so far are not implemented.
Political analyst, Fisnik Korenica from the "Group for Legal and Political Studies" institute says that the Brussels talks must be reformatted because it's become pointless under these circumstances.
"I believe that the continuation of dialogue unless Serbia commits to the implementation of the agreements reached with Kosovo is pointless. Dialogue is not a scope in itself; the scope consists of the normalization of relations. Therefore, the refusal to implement the agreements reached up until today consists of a violation of obligations that Serbia has taken in front of the European Union and shows that Serbia has used the talks with Kosovo merely as an instrument to benefit in its European path and it has done very little to meet its obligations toward Kosovo", says Fisnik Korenica.
The suspension of talks has also been demanded by opposition parties Self Determination and Alliance for the Future of Kosovo.
This process has many dilemmas, both from the government of Kosovo and the government in Belgrade, but the EU chief of diplomacy, Federica Mogherini may offer her help in this process. Mogherini is expected to visit Kosovo at the end of this month.
In the first meeting that Federica Mogherini had with the prime minister of Kosovo, Isa Mustafa and that of Serbia, Aleksandar Vucic on February 9 of this year, a deal was struck between Kosovo and Serbia on the justice system.  /ibna/