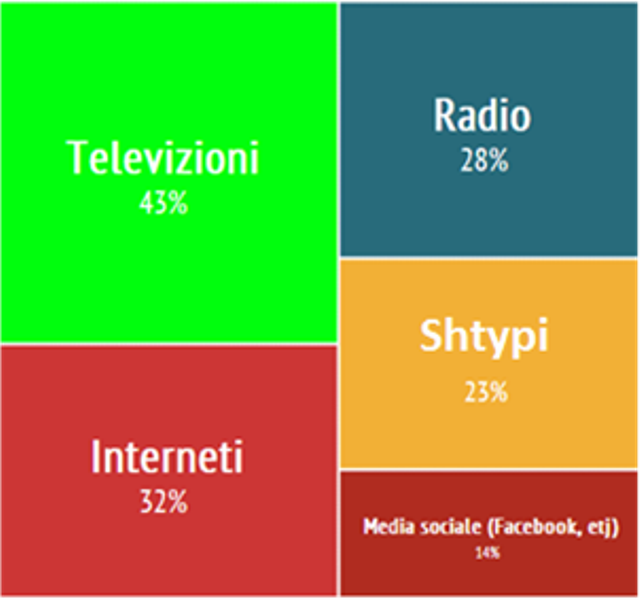 IBNA Special Report/What's interesting is the fact that in Albania, in contrast to other countries, such as USA, Europe, China, Japan, South Korea, etc., television is the most trusted medium of information
See below the full report
Tirana, July 2, 2014/Independent Balkan News Agency
A study involving 16802 young people, boys and girls, has been recently carried out, with the aim of discovering how they view media and what's their relation with it.
Alban Nelaj, Executive Director of EUNACAL Institute, says that the study was made to shed light on the relations of young people with the media in Albania.
"We wanted to see if young people had passed from traditional media to new kinds of media, such as social networks, blogs, podcasts, etc. We also wanted to know how much do young people see media with a critical eye and what information sources do they trust the most", says Nelaj about the motives of the study that was carried out.
The results of the study
Albanian young people are highly critical of the media content. 59% of them believe that media lacks arguments, 53% say that news stories are in the form of propaganda, 41% believe that media uses a language that causes divisions and 21% believe that media uses inhumane epithets.
57% of Albanian young people say that the media doesn't provide the news in an unbiased way, 32% believe that media doesn't engage in investigative journalism, 29% believe that media do not provide true facts and 27% believe that media do not offer analytical explanations on the issues that they present.
What's interesting is the fact that in Albania, in contrast to other countries, such as USA, Europe, China, Japan, South Korea, etc., television is the most trusted medium of information.
While in the recent years, the countries mentioned above have been progressively dominated by television, Albanian youth predominantly chooses television.
According to the study, television is the most trusted media in terms of information. So, 43% of youngsters say that they trust the information provided to them by the television.
32% of them trust the information provided through the internet and 28% trust the information provided on the radio.
Meanwhile the least trusted source of information is the press (newspaper and magazines) with only 23% of young people trusting them and social media with only 14% of youngsters that trust them.
As a result, although there's a growing tendency to be informed from social media through contents produced by users themselves, the level of trust on information of this new kind is very low.
Television, as a traditional type of media, is the  most trusted media. Examined in general, none of the media information sources has a higher level of trust than 43%.
In Albania, internet has found massive use in the recent years. Many information websites have been opened and continue to open in the Albanian language. Nevertheless, the majority of them obtain their news from the main news agencies or the web pages of some of the main TV  networks.
Meanwhile, TV in Albania has a significant role. Currently, there are 10 news channels and less than half of them are general channels. Therefore, people are more focused on TV than internet.
As far as information in the English language is concerned the most trusted and preferred media by Albanians in Albania, Kosovo, FYROM and Balkan are Voice of America, Independent Balkan News Agency, Radio Free Europe, etc. /ibna/