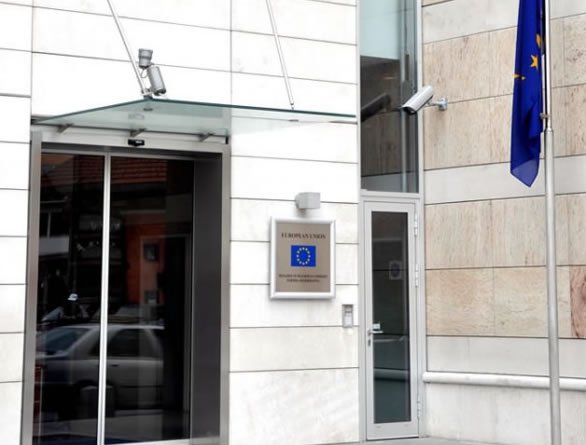 Sarajevo, February 20, 2015/ Independent Balkan News Agency
By Mladen Dragojlovic
First group of BiH university students visited main EU office in Sarajevo in order to debate country's EU perspective. The program called "EU and YOU" begun on Thursday, with the first honours belonging to a group of students from University in Mostar, who met Thomas Busch, Head of the Political Office in EU Delegation and EU special representative for BiH office.
As it was announced from the EU office, in his address to students, Busch spoke of the current state of play  in the process of BiH's European integration in the previous period, and stressed  that the new initiative of the EU, agreed in December 2014, creates a new momentum to accelerate the EU integration process. The important role of leadership by BiH institutions and leaders, taking responsibility for BiH's further progress towards the European Union, was also underlined.
On the students question how young people can contribute to the progress of BiH to the EU, Busch said that the value of  active participation and civic pressure as instruments that can accelerate state integration processes and hold political elites to account.
Program "EU and YOU" is implemented by the Association VESTA, and is funded by the Office of the EU Special Representative in BiH, in order to bring  the process of European integration closer to  undergraduate students of BiH Universities. Head of the VESTA expert team, Amra Selesković, said that the aim of this programme is to increase the knowledge and interest of students for specific issues relevant to EU integration, and boost their greater participation in activities aimed at accelerating the process of accession of BiH to the European family and to build a prosperous and stable society.
"The programme will contribute to strengthening cooperation between BiH universities and the Office of the EU Special Representative in BIH, as well as mutual cooperation between the BiH universities in an effort to promote and integrate the EU agenda in activities  of Universities", said Seleskovic on the beginning of program.
About 650 students from eight public universities and five faculties in BiH will visit the EU office in Sarajevo. The programme brings an opportunity to students to participate in a debate competition, as well as to have an educational study visit to Brussels for the winning teams in a debate competition.
The Universities, colleges and academies who will take part in the programme in 2015, alongside the University of Mostar are: University of Bihać, University of Banja Luka, University Džemal Bijedić in Mostar, Fine Arts Academy Široki Brijeg, University of Sarajevo, University of Tuzla, University of Zenica, University of East Sarajevo with the Faculty of Medicine Foča, Faculty for Production and Managment Trebinje, Bijeljina University Centre and the Faculty of Economics Brčko.