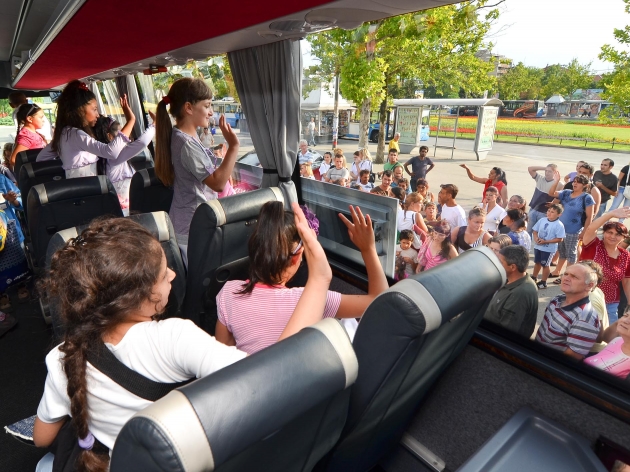 By Maja Tuljkovic – Sarajevo
Going to an excursion at the end of the school period is something that pupils will remember forever. However, the number of parents that can not afford to pay for this experience for their children is higher. An excursion price for primary and secondary school students is higher every year and thus a very small number of students from B&H go on these trips. School trips cost a minimum of 400 BAM (around 200 euros) but the prices vary even up to 800 BAM.
Most students from primary and high schools of the Sarajevo Canton will not go on an excursion this year due to the poor social conditions and expensive arrangements. For example, students of the textile, leather and design high school for already two years do not participate on these tours. This was confirmed by Merdin Hašimbegović, Deputy Director of this School.
"We have 80 high school graduates. Most of the parents do not work or they have low incomes and we do understand that they are not able to pay for trips for their children", added Hašimbegović.
Primary and high schools generally follow the school rules based on which they can chose travel arrangements. However, most of these travel arrangements are expensive and the parents are not able to cover all the costs. A tourist agency states that currently the most attractive offer is Spain and visits to Italy are very rare due to the low interest. A ten day excursion to Spain costs from 600 to 750 BAM, depending on the arrangement. This arrangement for some schools is expensive, while other schools accept it.
Often primary school pupils go on tours throughout Bosnia and Herzegovina, such as pupils of the primary school "Grbavica 1" from Sarajevo did. They went on an excursion in September 2013 throughout the country but even this trip was not easy to organize.
"There were many pupils, whose parents could not afford to pay 230 BAM for this tour, so through humanitarian actions and bazaars we managed to collect the money needed for all the pupils", said the School Director Omer Begović.
In many schools in Sarajevo Canton still is not for sure whether an excursion will be organized because students and professors are still in dilemma. Although these excursions for high school students is the first time abroad, and for pupils of primary schools the first opportunity to get to know their country, parents find it hard to ensure the money for these trips. Students show less interest for these trips since parents for one trip of a high school student should give their entire salary and thus they want to spend this amount of money in a better way. Usually, graduates of high schools want to spend that amount of money in acquiring driving licence or going to the sea cost.