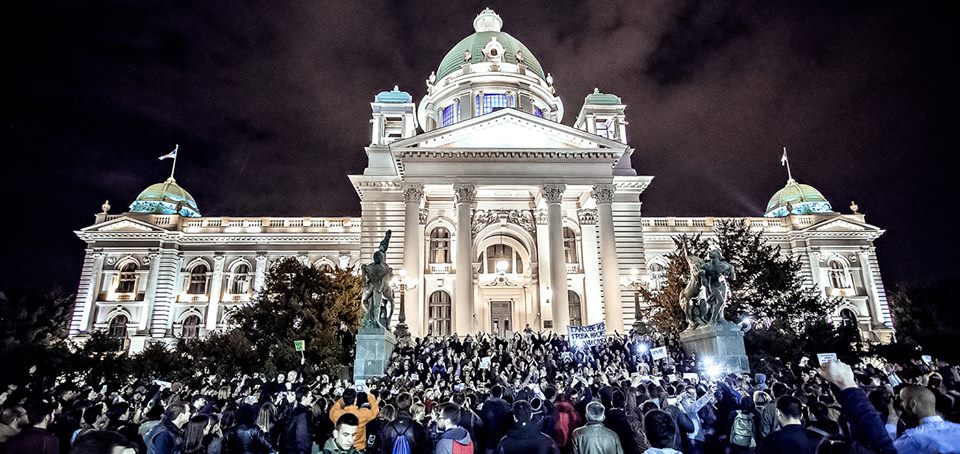 The protests in Belgrade, Novi Sad and other Serbian cities would be continued until the demands of the students, who lead the gatherings, are fulfilled. This was decided today by the informal student groups in Belgrade and Novi Sad. The protests "against the dictatorship" started after prime minister Aleksandar Vucic's win the presidential elections on Sunday; the demands of the students are political.
The students request the sackings of electoral commission members because of "disrespecting Constitutional Court's decision" regarding the voting process in Kosovo; the resignation of the National Assembly's president Maja Gojkovic over her decision to pause the parliamentary session amid electoral campaign; the dismissal of national broadcaster's (RTS) director and political editor due to their alleged siding with the "regime". The revision of the voters lists is the freshest demand. The students say they would demand early elections if their requests are not fulfilled.
Thousands of people took part in the demonstrations.
In the meantime, Sergey Zheleznyak, high official of the Russian ruling party United Russia lead by president Vladimir Putin, stated that the objective of the protests in Serbia was to "undermine the sovereignty of the country". "In accordance with the usual scenario of 'colored' political projects, these ordered manifestations have the aim to weaken the authority of the legally elected government which carry out independent policy, and to destabilize the situation", Zheleznyak said.
"Hostile actions are being conducted to put pressure on the leadership of sovereign states or to organize cups…", he said adding that "dark forces" try to use young people. "In all times the youth was the subject of manipulations and an instrument for materialization of the dangerous foreign interests", Zheleznyak concluded./IBNA
Photo: Protest in front of Serbian parliament on Tuesday evening