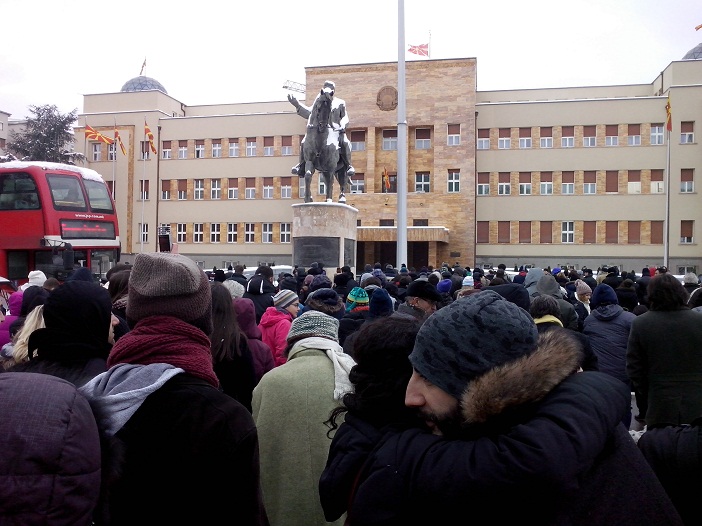 IBNA Special Report
Skopje, December 30, 2014/Independent Balkan News Agency
By Naser Pajaziti
University Professors Plenum, an organization which has been recently created against the government decision for the application of state exams for students, has warned for radical measures.
Vladimir Martinovski from the Macedonian Academic Union and representative of the professors that recently protested against the government decision, said that they could appeal for civil disobedience, in case the government doesn't withdraw from its decision or the bill for the state exam.
"We're left with the civil resistance. For this reason, we appeal for our demands to be heard in order to avoid a possible civil disobedience, which is legitimate. We appeal to our lawmakers", declared Martinovski.
Yesterday, parliament in FYROM went through the first voting of the bill, while these days, it's expected to go through with the final voting.
Students and professors demanded from lawmakers not to vote the bill.
Their letter demanded the cancellation of the procedure for the amendment of the law concerning universities and offer time for public debates and the application of the amendments on a later period. Otherwise, students and professors confirmed civil disobedience.
Professors called upon their former colleague, the current president, George Ivanov not to decree the law in case it's voted. According to academics, in case the law is voted, parliament can turn into a party school and it would lose its purpose of lawmaking.
"As a former university professor, the president must intervene and stop these absurd changes that are being aimed. The academic brain must not be controlled by politics", declared for IBNA, professor at the Southeast University of Tetovo, Ali Pajaziti.
Professors and students have said that they will continue with their protests until the government accepts their demands.
In spite of these protests, parliament went through the first voting last night and the minister of Education said that there will be no compromise for the withdrawal of the law.
Minister of Education, Abdilaqim Ademi said that this law brings many improvements in the quality of universities. The amendments of the law on higher education were passed with 71 votes in favor and 8 votes against. /ibna/