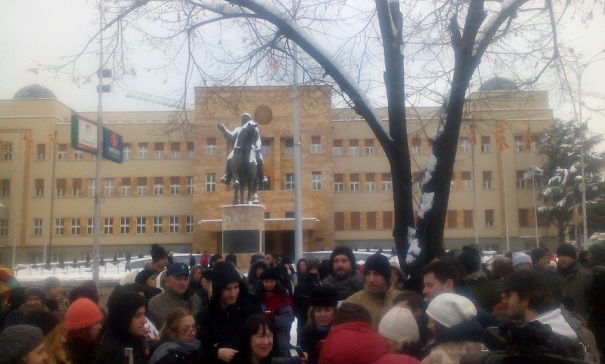 Skopje, December 29, 2014/Independent Balkan News Agency
By Naser Pajaziti
Another fresh protest was held today by students and professors against the approval of the bill on higher education, which foresees the application of a state exam for students.
Students protested today in front of parliament, which convened in session in order to vote the bill.
Students called on MPs not to approve the changes in the law and they said that these changes should be made part of a debate in the next three months. Protesters have called on the president of the country, George Ivanov not to sign the law.
"We appeal for the removal of the state exam and we don't want to discuss its form or modality. We have made our decision clear and we don't want a state exam which is organized by the government, because it intervenes with the autonomy of universities", declared Elena Gerovska from the Student Plenum organization.
Professors, who were also part of the protest, called on this bill not to be approved and they demanded from president Ivanov to put his veto against this bill. "If the current president, known as a university professor, cultivates higher education and its values, then he must make strong decisions. He must put his veto against this law in order not to lose the credibility that we've enjoyed so far", declared professor Vladimir Martinovski.
According to him, the government has not heard the arguments of the academic society and the changes in the law for higher education may risk the autonomy of universities and cannot be considered as efficient.
This is the fourth protest in a row which is being organized. On the other hand, the government is determined to approve the bill and apply the state exam in order to increase quality and have better graduates. All students are obliged to sit the state exam after the second year of studies and at the end of their studies. /ibna/