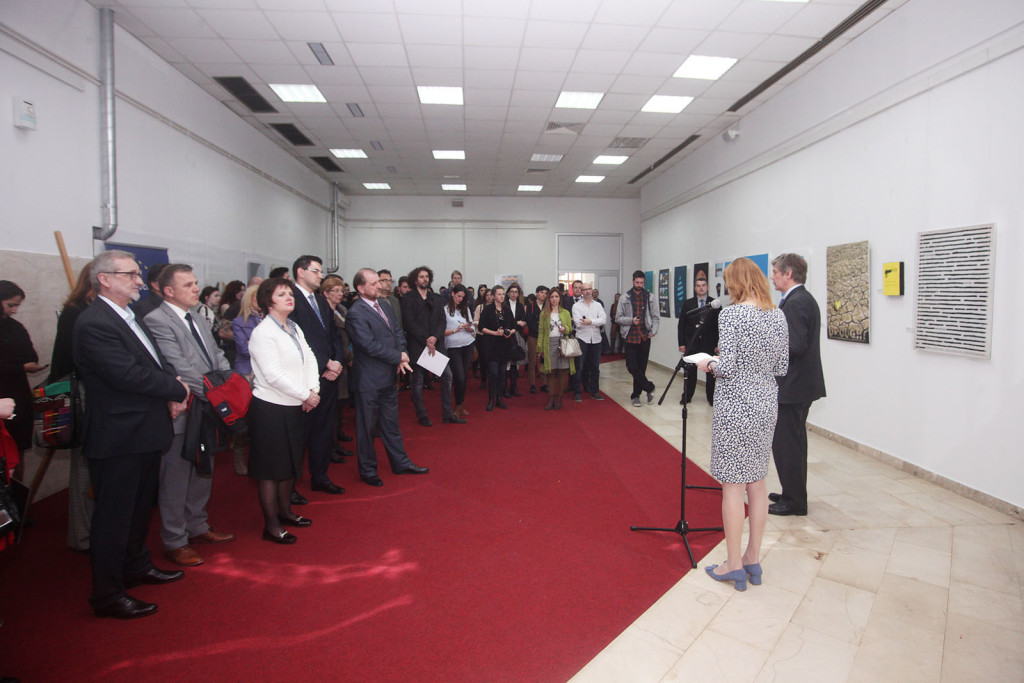 Banja Luka, April 1, 2016/Independent Balkan News Agency
By Mladen Dragojlovic
The final exhibition of 48 artworks which were created by students from the BiH fine arts academies was opened in Banja Luka, as result of cooperation between EU Info Centre (EUIC) and all four BiH Fine Art Academie.
Those academies are  the Academy of Art in Banja Luka, the Academy of Fine Arts in Sarajevo, the Academy of Fine Arts in Trebinje and the Academy of Fine Arts in Siroki Brijeg. Four students, one from each of these academies, were awarded for the best artworks with a 3-day study visit to the prestigious Brera Fine Art Academy in Milan.
The Head of the EU Delegation to BiH and EU Special Representative, Ambassador Lars-Gunnar Wigemark, said in his opening speech that it is worth to commend the efforts and commitment of those involved in this EUIC initiative. He also expressed his satisfaction that art in BiH is very much alive.
"Often in the EU we are talking about a community of values, and art is one way to express the common values which, again, relies on the freedom of expression. Also, hereby I underline the value, not only of the artists, but also their teachers. I must say that there is not only one art, and if the country progresses towards the EU you will be more integrated into the art of the EU, whose part you are already in some way", Wigemark said.
He added that he expect that the students in their visit to the Brera Academy will use the opportunity to present their country and gain some new experiences and perspectives, and generally broaden their artistic horizons.
The awarded students are Nina Ninkovic, student at  Academy of Art in Banja Luka, Martin Frljic, student at Academy of Fine Arts in Siroki Brijeg, Sonja Belos, Academy of Fine Arts in Trebinje and Ajla Salkic, Academy of Fine Arts in Sarajevo. The exhibition was attended by over 40 students and their professors who took part in the initiative.
The EU Info Centre invited academies of fine arts in BiH to create artworks on the various topics. Trebinje academy is able to make the artworks of cultural and natural heritage, water and environment would be made by Banja Luka academy. Sarajevo would work in area of human rights and Siroki Brijeg on the artworks concerning children and education.
The final exhibition in Banja Luka was preceded by the exhibitions and panel discussions in the respective academies also including representatives of the EU Delegation to BiH, civil society organisations and citizens. A selection committee consisting of representatives of the four art academies selected one winner from each fine art academy and awarded them with a study visit to the Brera Fine Arts Academy in Milan, which will take place from 17th to 21st April 2016.