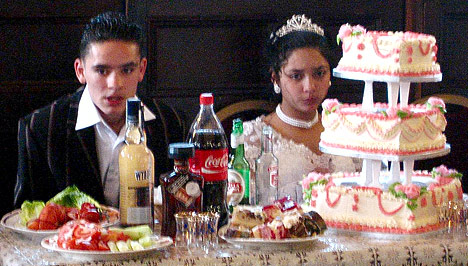 By Adnan Prekic – Podgorica
Forced marriages in Montenegro are a topic that is rarely mentioned. The occurrence of child marriages, which are also called forced or arranged marriages in the Roma community, have only in the last few years came to the public eye. According to numerous studies and information that are coming from institutions and civil society, girls from this community between 12 and 17 years old are included in the forced arranged marriages.
Arranged "forced" marriage of Roma children is a phenomenon on which members of the Roma and Egyptian community can't agree whether it's a tradition or a felony. One of the most common motives for entering into arranged marriage is money and the "price" that is achieved for girls ranges from three or four up to 15,000 euros. The laws in Montenegro do not prohibit minors under the age of 16 to enter in any form of marriage.
The NGO sector explains that is difficult to prove this type of criminal offense and therefore we do not have a lot of cases that end up in court. The Council of Roma, the most important institution of the national community, believes that the story of forced children marriages is exaggerated. Allegations that the girls of Roma and Egyptian communities are limited in their freedoms are false. This claim is best confirmed by the fact that more and more girls are attending secondary school, which means they socialize and go out with their peers, consider the Council of Roma.
When one analyzes the conditions under which the Roma and Egyptian communities live in Montenegro, one should not overlook the impact that they themselves have on the position in which they find themselves. Within these communities there is still a living tradition and customary law that has a particularly negative impact on the female population. It is more accurate to say that this is a kind of traditionalism rather than tradition, since tradition tend not to be negative. Merely insisting on customs and norms that are not in line with the modern way of life, carries with it a violation of law, fundamental human rights and limits the opportunities that lie ahead for members of these communities. Most importantly, these norms are not in line with the wishes and interest of the Roma and Egyptian female members.
Girls are forced into early marriage and it is represented as the main aim in their life. The key to overcoming this challenge is in the effective and continuous extension of activities that terget on alleviating the inclusion of Roma and Egyptian communities and also in the consistent implementation of legislation, which must be above the customary norms and that will be equally applied to all.