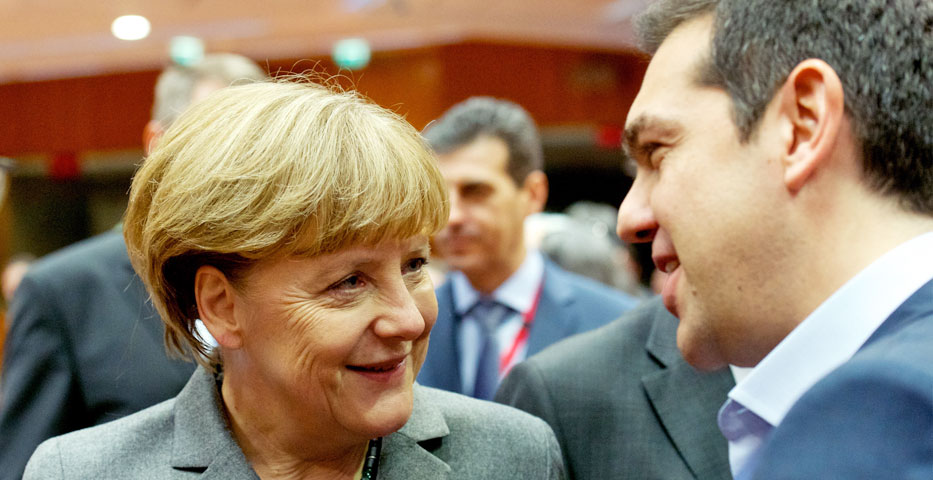 Athens, May 11, 2015/ Independent Balkan News Agency
By Spiros Sideris
Angela Merkel is hard pressed by members of her party on the issue of Greece, according to Bloomberg.
Specifically, CDU's members ask her to abandon Greece, while at the same time it is obvious that she is doing everything in her power to prevent a Greek exit from the euro.
According to the agency, members of the CDU openly criticize the Merkel's stance to "keep the heavily indebted Greece in the Eurozone". Indeed, members of the German Finance Ministry appear to oppose this decision, arguing that it would be better for the eurozone if Greece exited.
"The euro will be strengthened if Greece leaves", argues Alexander Radwan, member of the CDU as "other countries would come closer and implement with a better and 'tighter' way the rules". What's interesting is that Radwan was among the MPs of the CDU who voted in favor of the extension of the greek program in February.
At the same time, the US agency says – citing informed sources – that Merkel is annoyed by Saturday's statements of Schaeuble of a possible "sudden bankruptcy of Greece".
Of the risk of a "sudden bankruptcy" of Greece spoke the German Finance Minister Wolfgang Schaeuble! In an interview with the newspaper Frankfurter Allgemeine Sonntagszeitung, Schaeuble says the experience elsewhere has shown that a country can suddenly slip in bankrupt, while he did not want to make predictions on a possible date this could happen.
Asked if the German government is prepared for such an eventuality, the German Finance Minister declined to answer and argued that "there are issues that a politician cannot answer based on logic". According to Schaeuble, Germany is determined to do everything to keep Greece in the eurozone, but under reasonable conditions, while appeared pessimistic about a possible agreement in the Eurogroup on Monday.
Speaking of the Finance Minister of Greece Yanis Varoufakis, Schaeuble stressed that "both of us are finance ministers, have responsibilities and work well", stressing that "the media  made Mr. Varoufakis a superstar and now deconstruct him. Both the one and the other are wrong".