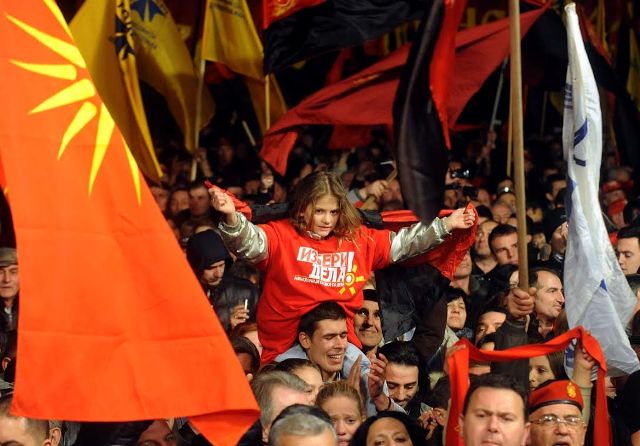 IBNA Special
Skopje, March 30, 2015/Independent Balkan News Agency
By Naser Pajaziti
Strong political debates continue in FYR Macedonia between the two largest parties, VMRO-DPMNE and Macedonian Social Democratic Union (SDSM).
These two political parties are intensifying their political vocabulary by mentioning terms such as revenge, imprisonment and tensions in the domain of security and cross ethnic relations.
All of this political theater is taking place following the publication of the wiretapping scandal by the largest opposition party SDSM, while VMRO-DPMNE in power accuses opposition leader Zoran Zaev and his party for treason and cooperation with foreign secret services.
Negotiations have been announced to take place today between VMRO-DPMNE and SDSM for the overcoming of the crisis and this process is being monitored by the European Parliament.
Political parties intensify the political campaign
Party in power, VMRO-DPMNE held a meeting during the weekend with citizens in Stip, to demand support from its members in facing the opposition scenarios.
"We demand the support of all the members in order to stop Zaev's scenario, who aims destabilization by damaging relations between ethnic groups. VMRO-DPMNE will fight these scenarios", declared Gruevski, by accusing the opposition leader for wanting to seize power without the legitimacy of the people.
Gruevski stressed once again the materials possessed by the opposition are orchestrated and secured from Secret Services.
SDSM has reacted against this rhetoric last night, by stressing that Gruevski is defeated and that the people are against him now.
"Gruevski is intimidated by the clear support that the opposition is offering for the truth. Enough with Gruevski! He should leave as he has no other choice", said SDSM. This party called on the party in power VMRO-DPMNE not to use state institutions for such dark scenarios for the country.
The first chance for the overcoming of the political crisis
Representatives of both political parties, VMRO-DPMNE and SDSM will start today in Brussels negotiations for the overcoming of the political crisis which would give way to political dialogue and an institutional solution under the monitoring of the European Parliament. In this meeting, SDSM will be represented by vice chairwoman of the party, Radmila Sekerinska, while VMRO-DPMNE will be represented by the chief of diplomacy Nikola Popovski. This format of the meeting will be brokered by three MEPs, Ivo Vajgl, Eduard Kukan and Richard Howitt. The three MPs have expressed their optimism that the two largest political parties will find a solution and will prevent a deep political crisis through dialogue. But these talks have not included Albanian political parties. The largest party BDI (Democratic Union for Integration), demanded its involvement in these talks, but there has been no reply from the organizers of this format of talks. /ibna/