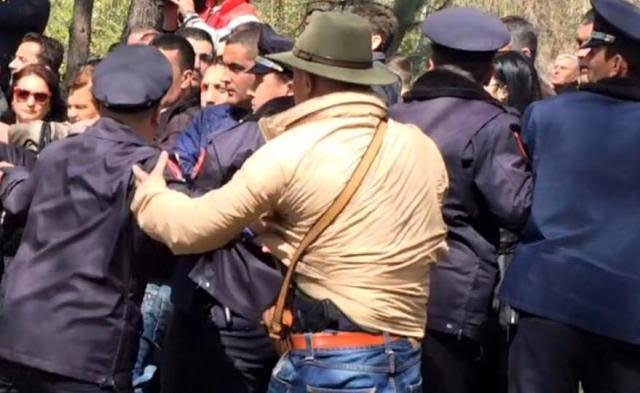 Tirana, 30 March 2016/Independent Balkan News Agency
By Edison Kurani
The opposition MP, Gent Strazimiri, former vice minister of Interior, was photographed a few days ago in an environmentalist protest with a sheath in his belt, which police suggest he was holding a pistol gun inside.
Strazimir denies he was holding a gun in the protest. In fact, he possesses a gun with permit as you can see on the photo below.
But the new government has approved a new law which prohibits several categories of people who up until now could possess weapons. Among them MPs too. Thus, Mr. Strazimiri was handed a letter on 25 March where he was asked to deliver his weapon. Up until yesterday (29 March), police said that he had not delivered his weapon.
The vice chairman of the Socialist Party (SP) parliamentary group, Taulant Balla is convinced that Strazimiri was armed in the March 28 protest.
Meanwhile, MP Arben Ristani, former vice minister of Interior, insists on the opposite. According to him, the published photos of Strazimiri MP have been rigged by the media in order to tarnish the opposition's action. "The photo doesn't show anything. According to me, it was the mobile phone casing. Strazimiri didn't have a gun on him".
Ristani adds that there cannot be criminal proceedings against Strazimiri: "There cannot be criminal proceedings without proof and there cannot be proofs because Strazimiri didn't have a gun on him".
Contrary to Ristani's declarations, Balla believes that "DP is full of lies".
On the other hand, Mr. Balla says that the General Attorney must respond to the request addressed by the State Police for the launch of criminal procedures against the democrat MP, Genti Strazimir, who was photographed with a weapon during the opposition's protest at the Lake park.
"The General Attorney, Adriatik Llalla, must urgently respond to State Police for the start of criminal proceedings against Strazimiri; parliament should be notified and convene urgently in order to allow justice to do its job with the arrest of the MP, who is accused of two criminal acts, illegal possession of fire arms during a protest, something which is prohibited by law", Mr. Balla said.
A police expert that IBNA contacted said that the law doesn't allow, whatever the circumstances, an official to carry a fire arm with him. What's more, the legislation in power prohibits the holding of fire arms by participants in a protest or a rally. Special Forces of the Ministry of Interior alone are allowed to carry fire arms during a protest.
Meanwhile, today minister of Interior, Saimir Tahiri announced that Strazimiri delivered his pistol gun.
Many officials and former officials carry fire arms
Meanwhile, it seems that many senior officials such as former heads of communes, judges, prosecutors and MPs have not yet delivered their guns based on the new law on weapons.
But what are the penalties that may be given to these people if they do not deliver their guns?
Minister Tahiri says: "In the law that we have approved in parliament last year, we have sanctioned that senior officials must not carry weapons. Judges, prosecutors and mayors must not be issued with fire arms", Tahiri said.
The same thing goes for MPs too: "MPs must not be issued with guns in case they don't have any problems. If after their request, police consider their reasons  well founded, then they can be issued with a weapon, however, not to be carried on them".
State Police has called on officials who up until today have not delivered their weapons, to deliver them. But so far, this order has not been applied. Mr. Tahiri invites all these people to deliver their weapons, "because nobody needs them".
"We need the contribution of everyone to make Albania safer for the life of the citizens. And this cannot be eachieved by having MPs or judges who carry weapons on them", Tahiri says. /ibna/