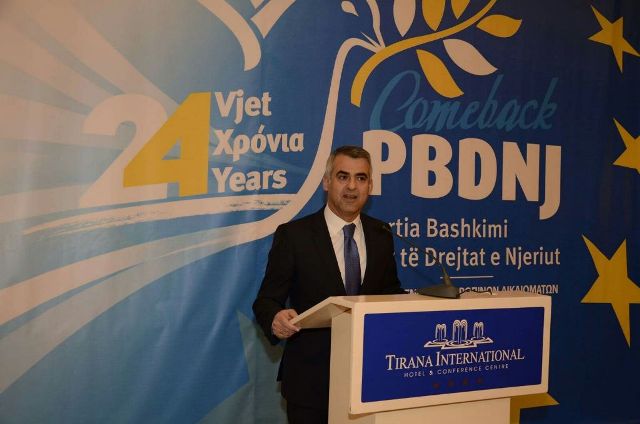 Tirana, 9 May 2016/Independent Balkan News Agency
By Edison Kurani
The leader of the United Human Rights Party (PBDNJ), Vangjel Dule launched accusations and strong criticism against Prime Minister Edi Rama's government. Speaking from Saranda, Dule criticizes the way the current coalition where PBDNJ was part of, is leading the country.
According to Mr. Dule, Rama's government has been leading a course of total failure in the past three years.
"Previous governments in the past 25 years failed, but the hope of the citizens was not lost. Meanwhile, PM Edi Rama makes an exception. He killed the hope of the citizens", Mr. Dule said.
In his party's meeting in Saranda, Mr. Dule spoke about the relations of PBDNJ with the government and the coalition: "Our paths are divided. We have contributed for the victory of this majority, but I'm sorry to say that it is heading to total failure. This government is different to previous governments that have governed in these 25 years, which have had more or less a similar end, where they have marked achievements and failures, but at least they have left the citizens with hope. Rama makes an exemption. Instead of a positive momentum, it is offering a negative momentum. Rama leaves no hope. An old proverb says: "Hope is the last to die", but Rama killed even hope", Dule said.
PBDNJ is marking its 25 anniversary. It was established as a political force whose focus is to protect the rights of the Greek minority in Albania.
After socialists and democrats, PBDNJ is the third party in Albania which has been in parliament for 25 years. It has constantly been part of governing coalitions, but it has often left them, mainly for being unhappy with the rights relating to the Greek minority.
PBDNJ left the coalition with Rama, when the latter appointed as deputy speaker of parliament the chairman of PDIU, a political force which defends the rights of the Tcham community. Following this decision, Mr. Dule announced his resignation from the post of the deputy speaker of Parliament. /balkaneu.com/