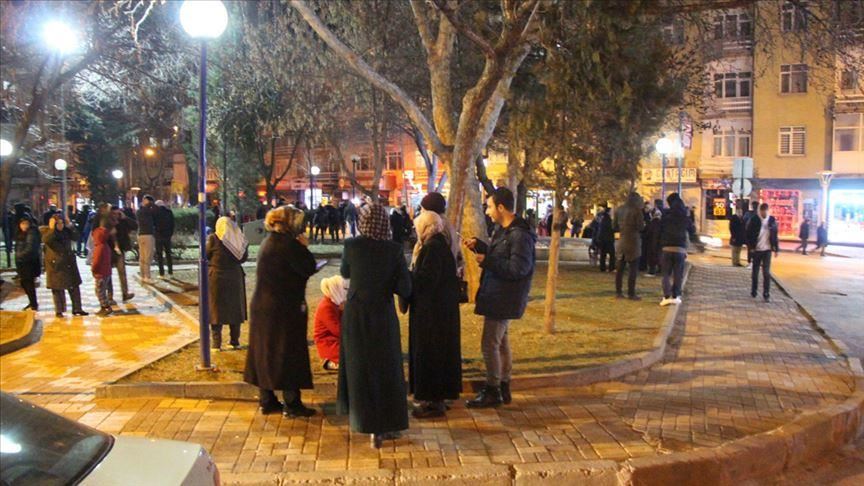 A powerful 6.8-magnitude earthquake has hit the eastern province of Elazig, leaving six people dead and dozens injured according to initial reports, the country's Minister of Internal Affairs stated.
Suleyman Soylu said four people had died in the earthquake and about twelve were injured.
The Disaster and Emergency Management Presidency (AFAD) forces initially announced a magnitude-6.8 earthquake, but the Kandilli Observatory and the Earthquake Research Institute in Istanbul revised the magnitude to 6 on the Richter scale.
"Search and rescue teams have been dispatched to the area and no further information has been disclosed", Soylu said, adding that some buildings in the city center had been damaged.
He also stated that rural villages may have been damaged to some extent without giving further details.
National Defense Minister Hulusi Akar said the army was ready to take action if necessary.
Davut Gul, Governor of the Gaziantep province, informed that there were no casualties or material damage according to initial reports, expressing his condolences to the locals.
Sanliurfa Governor Abdullah Erin said the situation did not look bad according to initial reports, adding that the disaster service was on alert.
Tuncay Sonel, Governor of the Tunceli province, noted the quake was felt in the province but did not cause much damage, as authorities have not reported any casualties so far.
The earthquake was also felt in many other provinces such as Adana, Osmaniye, Tunceli and Hatay. In addition, areas of northern Syria such as Idlib, Azaz, Al-Bab, Jarabulus, Afrin and Tal Abyad, also felt the vibration.
This is not the first earthquake to hit Turkey in 2020, as a magnitude-5.4 earthquake stroke the western province of Manisa on Wednesday, while the capital of Ankara was hit by a 4.5-magnitude earthquake on Thursday.
In 2010, the Elazig province was hit by a magnitude 6 on the Richter scale earthquake, leaving a total of 51 people dead.
Mitsotakis contacted Erdogan
Greek Prime Minister Kyriakos Mitsotakis contacted Turkish President Recep Tayyip Erdogan and expressed his condolences and solidarity of the Greeks with the Turkish people over tonight's devastating earthquake. The Greek Prime Minister noted that Greece was ready to assist in search and rescue operations on request.
The Turkish President thanked the Greek Prime Minister, stressing that the situation was currently being monitored by the Turkish teams and would be re-assessed in the morning. /ibna