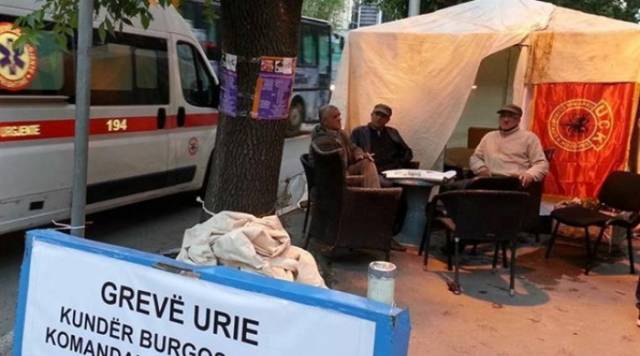 Pristina, June 10, 2013
Four persons who have entered their second week of hunger strike to express their solidarity with former commanders of the Kosovo Liberation Army, who have been arrested recently, have written to institutions in Kosovo and abroad by informing them about the health situation of the strikers.
"Today we delivered to the speaker of the parliament of Kosovo, Mr. Jakup Krasniqi, Prime Minister Hashim Thaci and to the chief judge of the Supreme Court and head of EULEX our pleas. As part of the pleas we have also attached the public declarations issued during the strike, the protesting letter drafted by the intellectuals of Tirana and supporters of the liberation war of the Kosovo Liberation Army", states the press release issued by the strikers.
Part of the strike is Blerim Muriqi, Xheme Xhura, Ibrahim Kelmendi, while striker Murat Bajrami has been forced to stop the strike, due to his critical state of health.
"Last night around 10.30 pm, he was taken by an ambulance and he was advised to stop the hunger strike. Even we, fellow strikers asked him to stop the strike, and so he did. We thank him and we wish him a quick recovery", states the press release. /ibna/