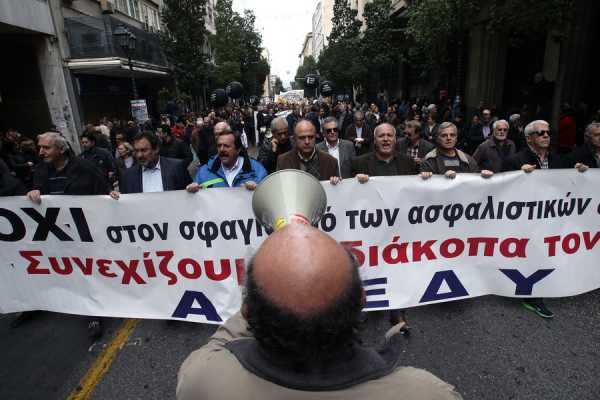 Athens, May 6, 2016/Independent Balkan News Agency
By Spiros Sideris
GSEE announced a 48-hour general strike for Friday May 6 and Saturday May 7 against "the steamroller of Social Security-Tax bill", while it speaks of a parliamentary coup of the government since, "after the unannounced legislative acts and the enforcement of measures with emergency procedures, it now proceeds with a parliamentary coup, while with fast track procedures attempts to surprise the Greek society by promoting the adoption of social security and tax bills during the weekend".
GSEE characterizes the bill as a tombstone for employees and pensioners, while the Confederation has taken a decision for 24-hour general strike for Sunday May 8 – the day on which has been imposed the opening of the shops – and a rally in Athens at 10.00 am in Klafthmonos Square.
As stated in the communication of the GSEE, the rallies to be held in all major cities of the country following the latest developments are transformed to the central strike demonstrations of unions, while it adresses a call for mass participation and also calls for the opposition parties to condemn "government coup" in Parliament.
ADEDY
ADEDY has announced a 48-hour general strike on May 6-7, with participation in the rallies that will take place across the country, against the social security-tax bill that will be put to a vote in Parliament.
Ships
Problems in the return of many Easter holidaymakers is expected to cause the four-day nationwide strike of the Panhellenic Seamen Federation from 6.00 in the morning (Friday, May 6th) to 6.00 am Tuesday, May 10, on the occasion of the tabling of the social security bill in the House.
Metro, Metro and Suburban
A 48-hour strike Friday and Saturday have announced the Metro, subway and suburban railway workers, protesting for the social security bill.
Salonika
48-hour strike will perform on Saturday and Sunday the workers in OASTH. Buses will circulate with security personnel. The night bus line No 78N "KTEL- Airport" and buses for the free movement of people with disabilities will operate normally. What's more, workers decided for Friday a strike from the start of the shift to 9.00 am and from 9.00 in the evening until the end of the shift.
GENOP / PPC
On a 48-hour strike from midnight proceeds GENOP (Friday and Saturday), while on Sunday it will join the GSEE strike. With an announcement, GENOP/PPC denounces the "absolute surprise strategy" regarding the tabling of the bill for social security.
Journalists
The participation of journalists in the 48-hour strike declared by the GSEE decided the board of the Panhellenic Federation of Journalists' Unions. Specifically journalists will be on strike from 06:00 am Friday, May 6 to 06:00 am Sunday, May 8.