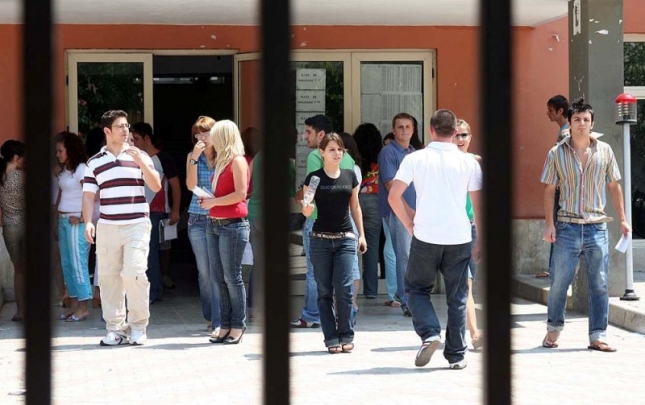 IBNA Special Report
Skopje, September 10, 2014/Independent Balkan News Agency
By Naser Pajaziti
Ahead of a strike announced by teachers of elementary and high schools to demand better conditions at work, pressure from the government has mounted.
Majority parties, VMRO-DPMNE and BDI (Democratic Union for Integration) passed in parliament two bills on education through a fast track procedure. What caused the reactions relating to these two bills was the fact that the new law threatens all teachers.
In case teachers enter a strike, they will be replaced by other temporary teachers in order not to suspend classes.
Minister of Education and Science, Abdilaqim Ademi said that the new law doesn't restrict the right of strikes.
"The law and constitution guarantee the right of strike and this right cannot be lifted by any legal provisions, But, we, as a ministry, are interested not to have suspension of classes. Unions are our partner and through dialogue, we can solve all disputes and all their demands, in order to improve the education system", said minister Ademi.
Education, Science and Culture Union says that the approval of these laws is a constitutional violation and restriction of the freedom of speech.
Jakim Nedelkov, head of this union, says that the decision for the strike will be taken in the days to come, but he said that law will be sent to the Constitutional Court to be abrogated. "Out of 534 union organizations throughout the country that are part of our union, over 400 of them are in favor of holding the strike. But, at the same time, we have also faced pressure from headmasters of different schools and other types of pressure to give up on the strike. This consists on a constitutional violation and a scandal. Our union will inform international institutions about everything", says Nedelkov.
Unionists demand higher salaries for preschool educational system workers, elementary and high school teachers, the signing of collective agreements in order to remove illegal differences in terms of payments for the same job and they're also against politics in the education system.
The opposition has reacted against the constitutional changes.
"Unable to solve the problems that he caused, Gruevski does what he knows best, he attacks the constitution by directly violating workers' rights. The right to strike is guaranteed by article 38 of the constitution. The international convention have also been breached, given that it says that in case of strikes and dismissals, no temporary workers can be hired", reads the reaction of the Macedonian Social Democratic League (LSDM).
Independent MP, Solza Grceva also says that these changes violate the constitution. "What was approved is an open threat and violation of the constitutional rights of workers in the education system to express their discontent", declared Grceva.
Teachers too claim that they're facing a lot of pressure in order not to participate in the strike. Enver S., teacher in a Skopje school told IBNA that it's not known how this strike is going to go. "After the approval of the new laws that sanction all of those who enter a strike, I believe that we won't have a very large participation in the strike. Many teachers fear that they may be replaced and that they may lose their job", says Enver S.
The first strike was scheduled to take place on September 29, but this date has not yet become official by the union. /ibna/