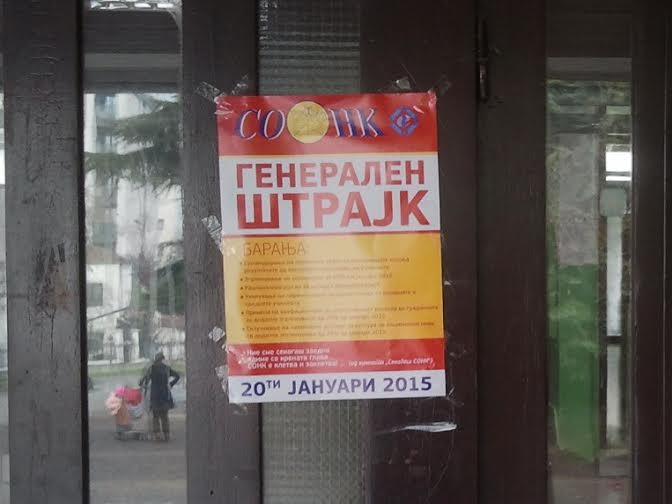 IBNA Special Report
Skopje, January 30, 2015/Independent Balkan News Agency
By Naser Pajaziti
Situation is being tensioned in FYR Macedonia in relation to the strike in the education system, following the declaration issued by minister of Education, Abdilakim Ademi that salaries for those teachers who will strike, will be reduced.
But, after this warning, the Teachers Union said that the decision is illegal and political and that they will not tolerate such thing.
The Union's committee said in a meeting last night that they will not accept ultimatums and threats by institutions. The committee has also warned protests.
"We do not withdraw from our decision for strikes, because this is a social demand and has no other tendency. The strike continues, until the responsible ministries decide to engage in a social dialogue and until a solution is found for our demands", declared for IBNA, Selajdin Destani, one of the Union's regional leaders.
According to him, a decision is expected to be taken next week about the protests, while a massive protest will be held in Skopje.
Minister of Education, Abdilakim Ademi demanded the suspension of the strike as a condition to start negotiations, but the union has not accepted such condition.
This refusal has sparked another reaction by the minister, who said that those teachers who will strike, will not benefit full salaries.
"In compliance with the law on elementary and middle schools and collective contract in education, teachers will not receive full salaries. According to the law, the employer is only obliged to pay pension and health contributions and nothing else", said minister Ademi.
Strike in education has also alarmed the European Education Confederation, the chairman of which is staying in Skopje as of the start of this week as part of a team of the confederation.
Head of the European Confederation, Martin Romer said that this organization backs the strike and the demands of teachers. During the week, he has met with heads of the national union and also the minister of Education and that of Labor and Social Policies.
"This strike is a constitutional right and the government must respect the decision. In the meetings with the government authorities, I have clarified the complaints of the confederation that punishments for teachers will not be allowed. I have hailed the government's innovation in education, but I have expressed my concerns about the approach to the strike", declared Romer, adding that a report is being prepared on field in relation to the strike that is being held in FYROM.
Teachers are worried about the fact that their salaries may be cut. "What's being warned is terrible, because to cut a salary which doesn't even meet basic needs, is not tolerable. In case our salaries are cut, then the ministry might as well apply more radical punishments against us, because there's nothing to lose in this time of crisis and low salaries", says Besnik S, a teacher in Skopje.
Teachers and workers in cultural institutions have started a strike on January 20 and they demand a pay increase by 25% and the lifting of penalties for teachers, who had been fined due to the negative results in external tests held in elementary and middle schools last year. /ibna/