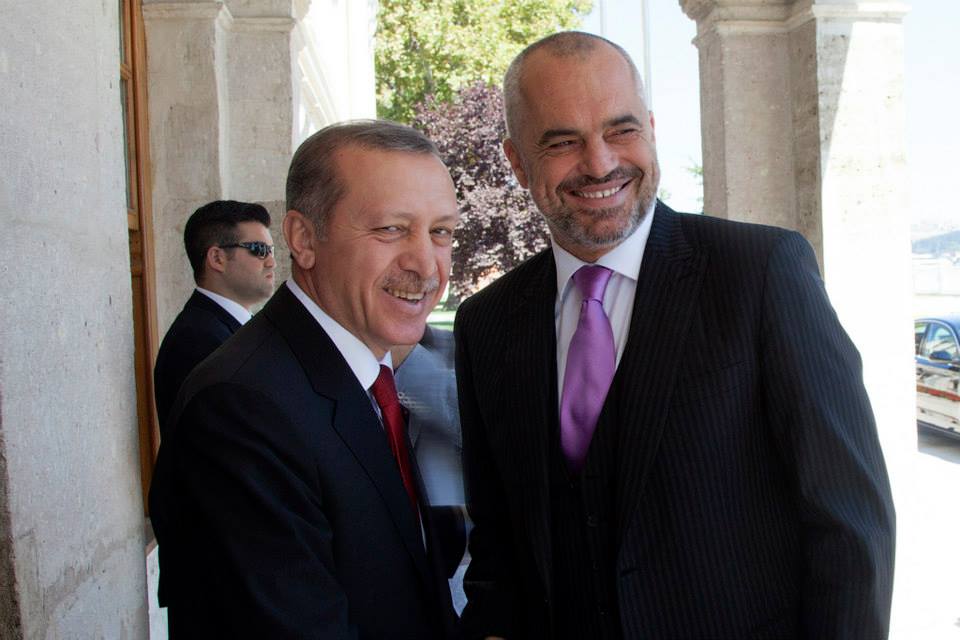 Tirana, May 7, 2014/Independent Balkan News Agency
Prime Minister of Turkey, Recep Tayip Erdogan will arrive to Tirana on May 14 for a one day visit. The Albanian government considers this visit as very important and has given it great media attention. Erdogan is expected to arrive at the head of a government delegation consisting of several ministers.
Official sources from the Albanian government told IBNA that the delegation will sign several agreements with the Albanian authorities. One of them relates to a low interest loan, but the government doesn't officially confirm the figure of the loan.
As part of his visit which will last several hours, Erdogan will also deliver a speech in the Albanian parliament. He will meet not only with prime minister Rama, but also with the president and speaker of parliament.
Erdogan and Rama will also chair the meeting of the Committee of High Level Cooperation Albania-Turkey. This meeting is expected to discuss the endorsement of several important agreements on issues of defense, health, education and cooperation in several other domains of mutual interest.
Erdogan's visit is the first one after the arrival in power of the left wing in Albania. Rama had visited Turkey twice and was received by Erdogan before and immediately after the elections.
Rama also met with Erdogan in Prizren (Kosovo) a few months ago.
Even during the electoral campaign for the June 23 polls, prime minister Rama said that in case he was elected prime minister, relations between Albania and Turkey would mark a new level of cooperation unseen before.
When he came into power, Rama announced Turkey as the new strategic partner of Albania. This was the first time that Turkey was announced a strategic partner. Before, this status was enjoyed by neighboring Greece, Italy and USA.
A few months ago, Rama publicly declared that there would be joint government meetings between Albania and Turkey in Tirana and Ankara. This declaration was received with criticism by several people who considered this as an unacceptable step. So far, no such meeting has taken place.
Mr. Erdogan's visit comes at a time when protests are taking place in Turkey against him. There has also criticism for intervention and shut downs of international social networks. The local elections confirmed the majority led by Erdogan. /ibna/