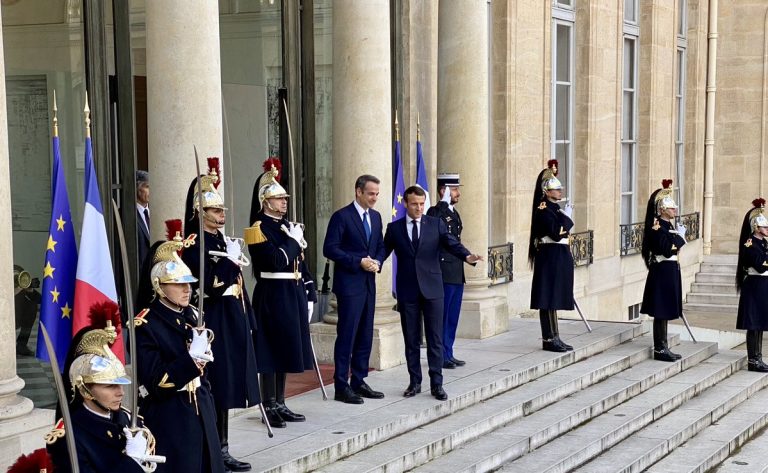 Security, defense and developments in our wider region were the main focus of Kyriakos Mitsotakis' discussion with French President Emmanuel Macron on Wednesday, 29 January at the Élysée Palace.
According to the Greek Prime Minister, who for the second time in five months visited Paris and met with the French President, this is a relationship that will form and allow the two countries to further enhance their already close relations. France is determined to strengthen its presence in the Eastern Mediterranean region.
The Strategic Partnership to which both leaders made reference to is believed to be crucial, as they outlined the key points that will be specified in subsequent meetings between the Ministers of Foreign Affairs and Defense. The key is that there is a common view on a number of issues related to security and stability in the region and it is upon this basis that the rest (common exercises etc) will be determined in the coming period. After all, contacts are very close at all levels, including those between Nikos Dendias and the French Foreign Minister.
During the meeting the situation aimed at smoothing out and reducing tensions in the wider region was also assessed, a government official involved in the discussions stressed. Meanwhile, Kyriakos Mitsotakis told reporters shortly after the meeting that "we are still talking to Turkey, we are building international alliances, we are strengthening our deterrent power. One does not exclude the other. It would be unacceptable if we didn't work on all three".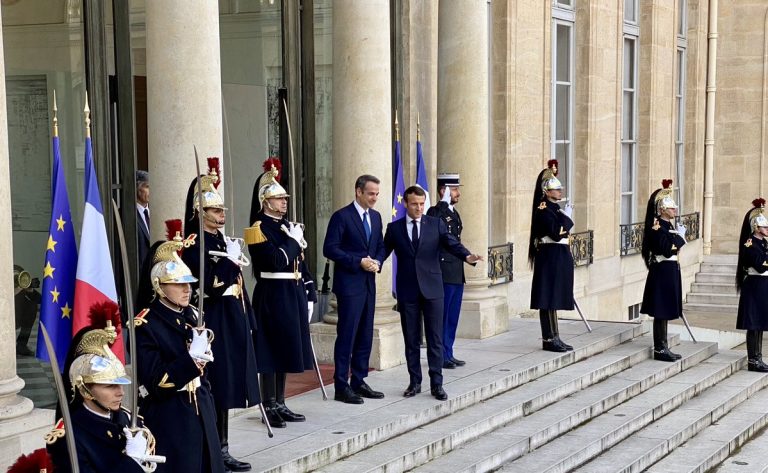 According to Greek sources, there is consensus between Greece and France on Libya on the basis of the EU conclusions. It was assessed that the situation in Libya was fluid while Turkey's activity was analyzed, as well as the intentions of the Greek diplomacy to cancel the Turkey-Libya "Memorandum". France understands what Turkey is doing in Libya by transferring a specific type of combatants and considers that Turkey is in breach of the Berlin Agreement.
Sources reported that on the issue of the acquisition of French frigates by the Navy, there were rounds of contacts between the two Defense Ministries. It constitutes a technical debate that is taking place and there is a commitment from the Greek side that it is going to be a "government to government" process, a transparent market relationship; yet there is no timetable, while the pressure added on the Greek budget is well known.
On the issue of surpluses, the same sources communicate that France has been from the very beginning a supporter of Greece arguing for lower primary surpluses, which the country is expected to set in 2021. The Greek side notes that France is regarded as an ally in this effort, and all that is left is for the country to decide during which Eurogroup the issue will be tabled.
There was mutual understanding around the migration issue between the two leaders, as there are questions pending regarding the functioning of the asylum process and the Schengen area.
The enlargement of the EU and the Western Balkans, where there was also convergence of opinion, was also left out of the debate, with the Greek side describing the French positions as optimistic, as France holds a critical yet not negative view regarding the enlargement process. /ibna