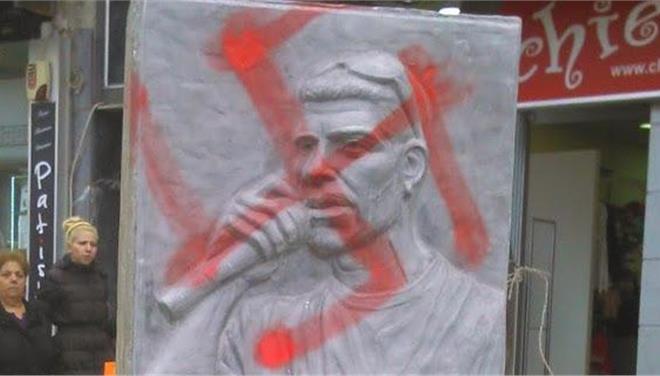 Athens, February 27, 2015/ Independent Balkan News Agency
By Spiros Sideris
"Brazen fascists provocation" that caused damage to the monument of Pavlos Fyssas impeaches, in a statement, the municipality of Keratsini-Drapetsona.
"At dawn Tuesday, February 24, strangers damaged the monument of Pavlos Fyssas, to the point where in September 2013 he was murdered by members of the fascist gang Golden Dawn. Swastikas and fascist slogans filled the bust of the antifascist musician", says in the announcement and is stressed:
"The new brazen provocation and the reappearance of fascists in the streets shows us that the front remains open".
Pavlos Fyssas was a rapper with antifascist action murdered in Keratsini on September 18, 2013 by Giorgos Roupakias, a member of the Golden Dawn. The murder was attributed to political motives, with criminal investigations implicating other members of the Golden Dawn and was the impetus for further investigations into criminal offenses and the existence of a criminal organisation involving members and leading party officials. In the course of the investigations, among the detainees for the set up of a criminal organisation, were included MPs of the Golden Dawn.