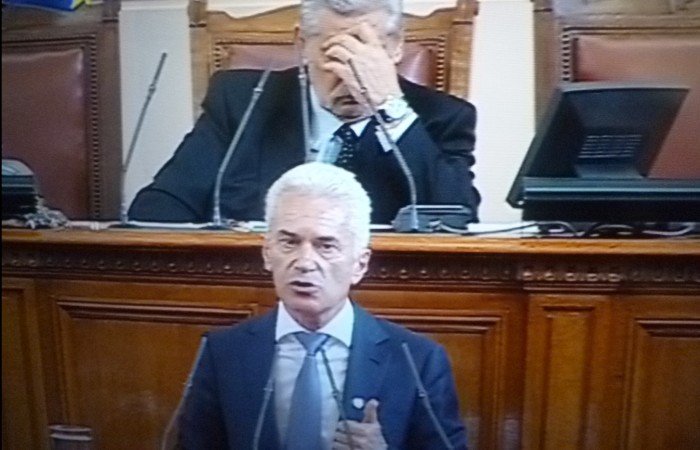 By Clive Leviev – Sawyer of The Sofia Globe
According to a new poll by the Afis agency, Bulgaria's most unpopular politician is Volen Siderov, leader of ultra-nationalist party Ataka. He does not seem to be that popular in Brussels either.
The absence of Ataka from Parliament was key to the debacle around the no-confidence vote, as former centre-right ruling party GERB added its own absence in a bid to demonstrate what it described as the dependence of the Bulgarian Socialist Party on Siderov's ultra-nationalists.
Ataka was away because, reportedly, its entire parliamentary group – it has 23 out of 240 seats in Bulgaria's 42nd National Assembly – was in Brussels, for reasons about which reports, claims and allegations vary.
Some unconfirmed media reports had it that Siderov had led his MPs to Brussels for talks with like-minded politicians from elsewhere in Europe to discuss plans for the European Parliament elections in 2014. Other reports, emanating from Ataka itself, said that the ultra-nationalists went there to demand an apology from European People's Party MEP Doris Pack for calling Ataka xenophobic and anti-European. Still others suggested that Ataka simply had come up with the trip as an excuse to be away from Parliament and thus to prevent any chance of GERB's motion of no confidence in the BSP government being approved.
According to a report on the Euractiv website, the Ataka odyssey in Brussels seemed to have been a wild goose chase.
No European political grouping, not least the EPP, agreed to meet them, and Bulgaria's diplomats at the EU's headquarters declined to arrange a meeting between the politicians and EU officials on the grounds that this sort of thing – government officials setting up meetings for political parties – is simply not done.
In a moment that spawned instant satire on social networks, the Ataka group ended up lodging their objection to Pack's statements by posting a letter in the EPP postbox.
Ataka did not even have MEPs to help them. Technically, there are two MEPs on the Ataka ticket, elected in 2009, but both have quit the party since then.
Valeri Simeonov, leader of the Ataka splinter and rival the National Front for the Salvation of Bulgaria, described the visit by Siderov's party to Brussels as "stupid theatre".
To add to the strange saga, Bulgarian anti-government site Noresharski alleged, in an unconfirmed report, that Siderov and his group had been involved in a noisy altercation over a drinks bill at a Brussels establishment.
And to add further to the mystification surrounding events, Ataka MP Ventsislav Lakov, interviewed by local Bulgarian television station bTV, said that Ataka had succeeded in holding talks with two Austrian nationalists in Brussels. Asked their names, he said that he could not remember them.
Lakov said that the purpose of the trip had been to show that a European party "cannot interfere in our internal affairs" and claimed that Ataka had an appointment to meet with representatives of the EPP.
EPP MEP Andrei Kovachev told bTV that no such meeting had been arranged, and the EPP and Ataka had nothing to talk about.