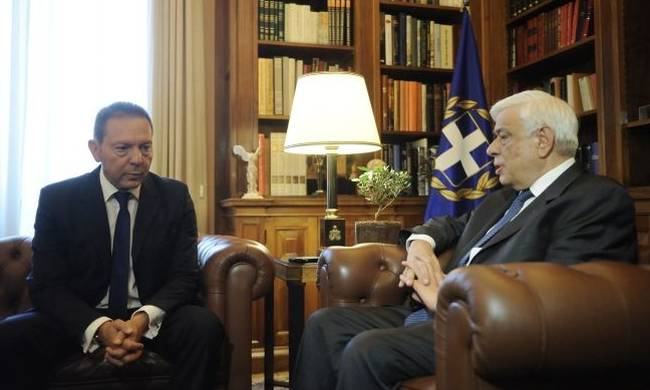 Athens, August 3, 2016/Independent Balkan News Agency
By Spiros Sideris
Meeting with the President of Greece Prokopis Pavlopoulos had the Governor of the Bank of Greece Yannis Stournaras to brief him on the latest developments in Greek and European level.
During the meeting held at noon at the Presidential Palace, Pavlopoulos referred to the need to support the European Central Bankt. "One of the big deficits that we have in the Eurozone is that the European Central Bank does not have the necessary tools to enable effective combination or modification of this crisis and the debt crisis and the banking crisis", Pavlopoulos noted and added that to achieve it to it must be given the Institutional instruments of other Central Banks to top the FED.
"I think that will the experience you already have and because as Greece because we have every reason to support this effort, we need to be with those States, which will contribute so that the European Central Bank rises to the occasion, but with appropriate means. Even if necessary change its statute".
For his part, Stournaras cited facts that are cause for optimism about Greece's course. "The developments in Greece are more positive than what it was a while ago – we have evidence for this", he said.
As regards the European Central Bank, he stressed that it is a major pillar of stability in Europe. "In essence, monetary policy carries very heavy weight today for stability in the eurozone. We would like the members of the ECB Governing Council and governments through fiscal policy, those who wish it of course, those that have what we say 'fiscal space', but also through other reforms, to contribute as well".
Regarding the reference of Pavlopoulos to the statute chance, Stournaras noted that this is determined by the Treaty and requires unanimity to change. "However, even within the margin we have, the ECB I think plays its role in the best possible way. And I completely agree to what you said about Mr. Draghi", Stournaras concluded, agreeing with a comment made by Pavlopoulos that "the President, Mr. Draghi, is a man who has proven that he is defending the Eurozone and the Euro. But to succeed in this, he should be given institutional instruments of other central banks, such as the FED for example".