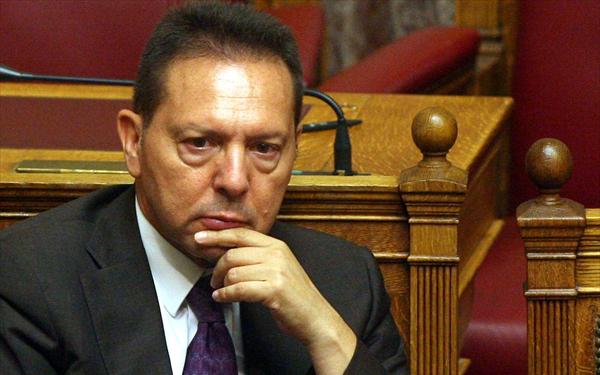 Athens, January 26, 2016/Independent Balkan News Agency
By Zacharias Petrou
Just a few days after Greek Prime Minister invited the country's creditors from Davos, Switzerland to wiftly conclude the first review of the Greek bailout program, the Bank of Greece Governor, Yannis Stournaras backed up Alexis Tsipras.
Speaking at an event honoring him at the American Hellenic Chamber of Commerce in Athens, Yannis Stournaras said the Greek economy had hopes of returning to growth in the second half of 2016 if the first assessment of progress in the implementation of the third Greek MoU was wrapped up promptly.
The central banker urged the Syriza-ANEL coalition government to implement agreed reforms without further delay since these would be the first step towards returning to sustainable growth and financial normality.
Stournaras's message echoed that of the Greek PM and European Central Bank chief Mario Draghi from Davos last week where they agreed that the first program review must be concluded as soon as possible. "The sooner we will have a successful conclusion of the first review, the better for recovery, the better for the European economy as a whole," Tsipras said last week in Davos.
Stournaras, however, also spoke of the detrimental effects capital controls have had on the national economy. Warning that "clouds have gathered over the global economy" the BoG head stressed the importance of strengthening the economy even though he could not predict when capital controls will be lifted.
In an attempt to draw lessons from recent experiences, Stournaras spoke of 2014 when Greek GDP was growing at 0.7 percent and positive growth rates emerged in 2015 too; only for the recovery to be halted by soaring uncertainty from the last few months of 2014 up to the agreement reached with the EU peers at the summit on July 12, 2015.
"The experience of the second half of 2014 and mainly the first half of 2015 should not be repeated" the BoG chief said, explaining that this contributed toward the growth of uncertainty, the decline in confidence and the deterioration in the liquidity conditions of the Greek economy and eventually the return of the Greek crisis."
Stournaras estimated that 2015 ended with a marginal contraction of the economy – by 0.2 percent of GDP – lowering the official estimate for zero contraction, as included in the state budget of 2016. Declining economic activity was attributed to the impact of capital controls and the tax burden on households and businesses.
Standars & Poor's recently upgraded its long term rating of the Greek economy. The S&P analysts expect an impending agreement on pension reform to lead to the successful conclusion of the first review of the country's reform program, raising the possibility of additional relief on the official portion of Greece's general government debt. S&P projections for the Greek economy call for one more year of essentially flat growth, followed by a more robust recovery.