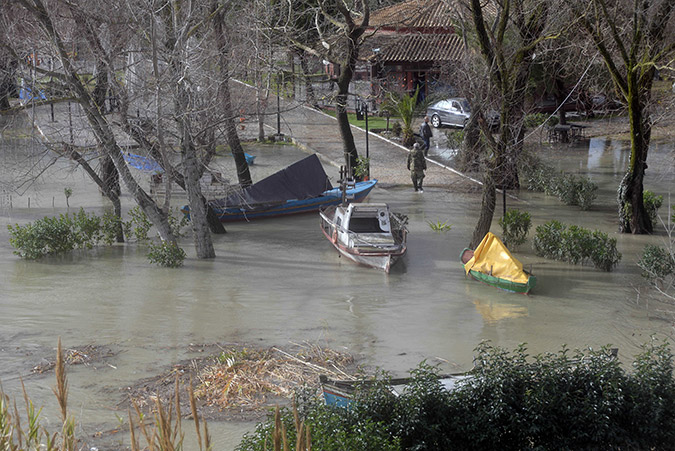 Athens, February 2, 2015/ Independent Balkan News Agency
By Spiros Sideris
The continuous rainfall has caused serious problems in a large part of the country, especially in Western Greece.
Stormy winds, continuous rainfall and storms has caused rivers to overflow, with the cities Arta, Evritania, Ioannina, Thesprotia and Preveza in a state of emergency.
Villages were evacuated, landslides occurred, rivers overflowed, while the historic bridge of Plaka has collapsed. Indeed there were fears for the famous bridge of Arta.
Outside Arta, in the village Anthotopos, residents lived dramatic hours as the region sank into the waters and mud. The town of Arta was also deeply affected, as the level of Araxos river rose dangerously.
Today the schools of the municipality of Arta will be closed.
In Tzumerka collapsed historic bridge of Plaka, while there have been problems in the area Kanalako of Preveza, and the Plain of Fanar, due to the overflow of the river Acheron. In Thesprotia, in the plain of Filaton, the river Kalamas also overflowed.
In the Highway Trikala – Arta, the waters of the impetuous torrent spilled out and "cut" the road in two, while intense hail worsen the situation.
In the region of Kozani in East Macedonia, the highway section Kalamia – Koila Kozanis flooded on both directions after heavy rain that fell on Saturday night, which resulted in the closure of Egnatia Odos (highway) with the traffic being carried out via alternative routes.
Approximately 8,000 acres of crops in the plains of Thessaly are submerged in the waters of the river Peneus and its confluents that overflowed.
Extreme weather also hit most of Etoloakarnania resulting in the cutting off of communities in the municipalities of Thermo and Nafpaktias.
Evritania was declared in a state of emergency. Many villages were cut off, while the village Krikelo was cut in two by a landslide and was evacuated by its inhabitants.
Achelous overflowed beyond the water volume limit that poses risk to homes, bridges and monuments that are in the vicinity, carrying debris (stones, wood). The result was the interruption of traffic on the road Arta-Karditsa and Aitoloakarnania-Karditsa after the water went over the road Bridge of Korakou and Avlakiou. Also near Pyrina Petroto of Argithea, the Bridge Beley and next to it the stone bridge of Petroto were covered from the huge volume of the river water of Argithea.
The Sperheios river flooded once again in the valley of Lamia creating many problems for crops in the region, but also to traffic.
Major damage also occurred in Achaia. On the coastal road to Rio and the beach, the sea reached the land, corroding the rod that filled with stones, wood and various objects.
The building that houses the High School and the High School of Melikis in Imathia sustained heavy  damages after  the stormy winds blew off the entire roof. The school will be closed until it is repaired.