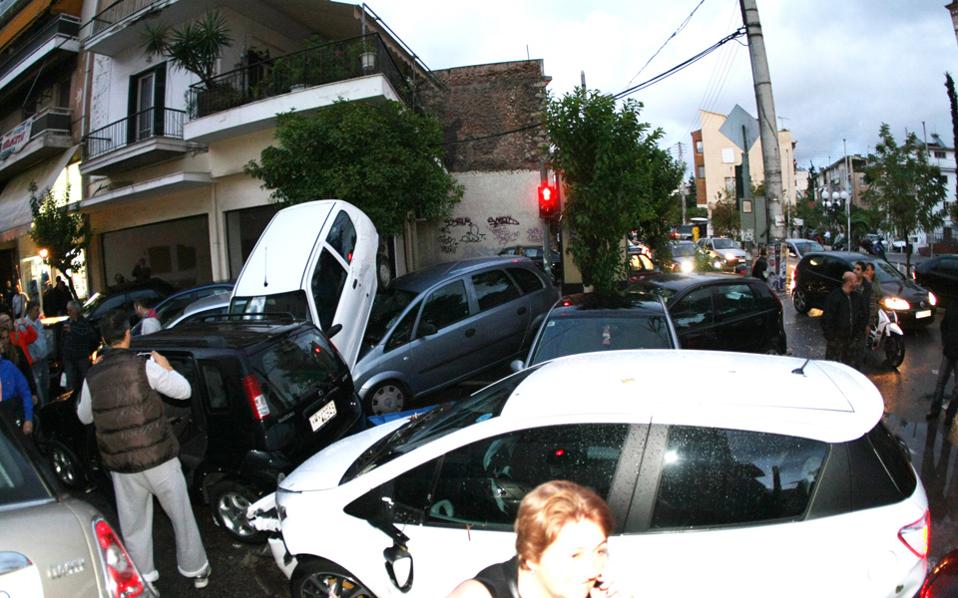 By Spiros Sideris – Athens
Major disaster was caused by the storm that broke out on Friday afternoon in Athens and continued till late evening. Many areas were turned into lakes, in many cases roads resembled streams and hundreds of underground shops and houses flooded. It was a miracle that there were no casualties, since in many cases pedestrians were dragged by the current and drivers were trapped in their cars. Dramatic moments lived eight drivers who were trapped in an underground parking supermarket in Ilion.
As announced by the Fire Department, until 8:00 pm the Operation Centre had received about 600 calls for water pumping. Most problems occurred in the districts of Peristeri, Anthoupoli, in Ilion, Menidi , Peristeri, New Philadelphia, Keratsini, Piraeus, Egaleo, Kokkinia and Korydallos, where chaos prevailed, since in some cases the water, apart from cars, dragged people as well.
In many areas there were reported power outages from falling trees in power poles, with the most typical case being the electrification problems occurring in parts of Greek Parliament building.
Prime Minister Antonis Samaras, who hurriedly returned from Brussels, chaired a meeting to coordinate actions, in order to set priorities for addressing the problems caused by the downpour. On Monday, authorities will start the official recording of losses, in order for compensations to be attributable to those affected, as was announced by the Prime Minister after the meeting.