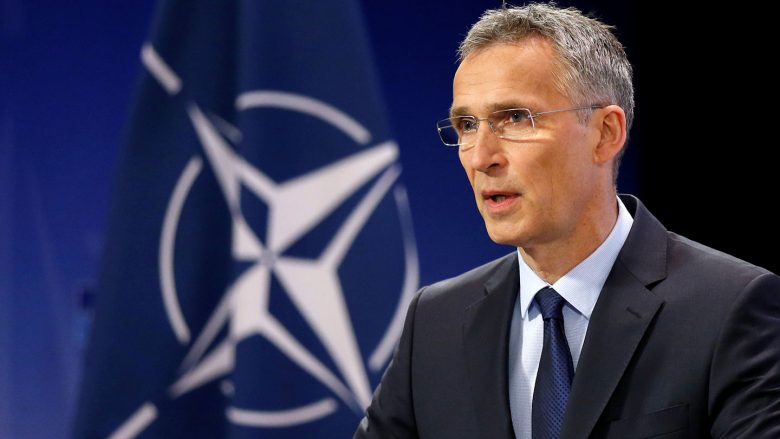 NATO Secretary-General Jens Stoltenberg gave a press conference after the first day of the Alliance's Foreign Ministers' Meeting.
Asked whether Turkey could be considered a trustworthy ally since its behavior is back and forth, and whether steps are being made with the US for a solution or a compromise on the issue of Russian S-400 missiles purchased by Turkey, he noted that "there are differences and there are concerns, and I also expressed my concerns on some of these issues, for instance on the S-400, about the the consequences of the Turkish decision to acquire Russian air defense systems. There are of course other issues, including the situation in the Eastern Mediterranean."
"At the same time, I strongly believe -and that is also part of the NATO 2030 Agenda – that we need to use NATO as a platform to consult and discuss when there are differences". "I also strongly believe that NATO can be a platform to try to find ways forward, to address some of these differences and concerns," he said.
"We have seen over the last weeks and months that we have been able to make some important steps in the right direction, including establishing a de-confliction mechanism at NATO, where Turkish and Greek military experts meet and set up different communication lines and agree how to reduce the risk for incidents and accidents in the Eastern Mediterranean. This has all helped pave the way for direct talks between Greece and Turkey on their underlying dispute in the Eastern Mediterranean," said Jens Stoltenberg.
Continuing, the NATO Secretary General also welcomed the fact that, "despite the differences we see, NATO continues its naval presence in the Aegean, helping to implement the agreement between Turkey and the EU on migration issues. And I think that the strength of NATO is that, by having NATO ships there, we are able actually to bring Turkey, Greece and the European Union together and help them implement an important agreement."
"So, yes, there is no way to deny that there are differences, I have also expressed my concerns, but at the same time I think we all have a responsibility to look in to how can we address them, how can we try to find solutions, also taking into account that Turkey is an important ally bordering Iraq and Syria, and Turkey has played an important role, at least in the fight against international terrorism. And no other ally hosts more refugees than Turkey. So, NATO is the platform to address these issues and to try to find ways to at least reduce tensions, but also sometimes be able to find solutions," concluded Jens Stoltenberg.
Earlier, NATO Secretary-General Jens Stoltenberg received and spoke with US Secretary of State Antony Blinken before the start of the two-day meeting of the Alliance's Foreign Ministers, who will also prepare the NATO Summit.
Asked what kind of challenge Turkey poses to NATO, given its relationship with Russia and its relationship with China, the Alliance Secretary-General said: "here are differences, and there are concerns and there are issues for instance, like the decision to buy the Russian air defence system S-400.There are differences and disagreements, regarding the situation in the eastern Mediterranean. And I have also expressed my concerns in Ankara, with the Turkish leadership on several decisions, including the consequences of the decision to acquire the S-400."
"At the same time I strongly believe that NATO has to be a platform where our allies also sit down together on the same table when there are differences and then we address them, then we discuss them, and then we try to look to way to deal with them. And that's exactly what we tried to do. We have been able to establish a de-confliction mechanism between Greece and Turkey, here at NATO, to reduce risk for incidents and accidents in the eastern Med," Stoltenberg noted.
"[W]e also see that we have the NATO presence in Aegean, where actually Turkey, Greece, EU and NATO meet and work together, on the NATO platform, the NATO naval presence in the Aegean. So, I think that what we really have to do is to, yes, accept that there are serious concerns, differences, but then use NATO as the tool to try to find ways to address them, to solve them or at least reduce the tensions."
For his part, US Secretary of State Antony Blinken said: "hat was exactly the same perspective. It's no secret that we have differences with Turkey, including over the S-400 and including certain actions that are taken, including in the eastern Mediterranean. It's also no secret that Turkey is a long standing and valued ally, and one that I believe we have a strong interest in keeping anchored to NATO, and I believe that's also in Turkey's interest as well, and to Jens' point I think NATO has demonstrated recently its effectiveness in dealing with some of the areas of disagreement and in particular in the eastern Med. serving as a vehicle for de-confliction, for de-escalation, for finding a way forward and that's a very positive example, but we have to keep working. We're determined to do that." /ibna