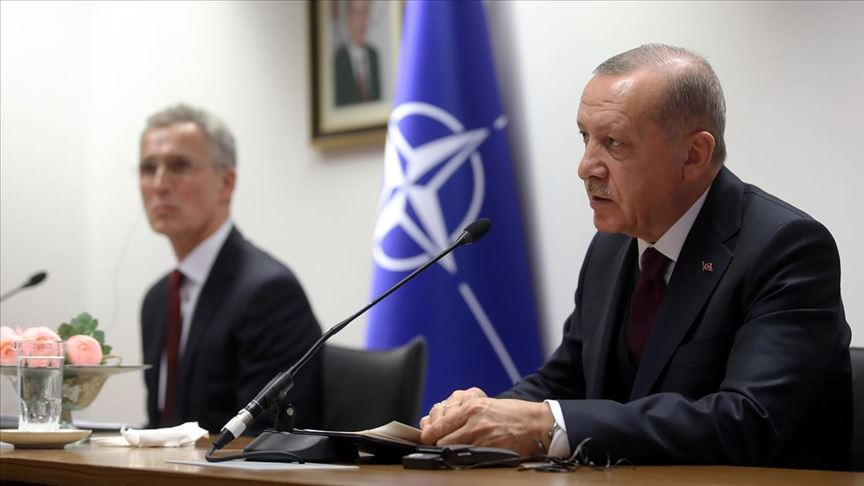 The Turkish President called on NATO members to prove they are allies with Turkey during this challenging time.
"NATO finds itself at a critical juncture in which it should clearly show solidarity with the alliance [with Turkey]", Recep Tayyip Erdogan said during a joint press conference with NATO Secretary General Jens Stoltenberg.
Our allies must co-operate with Turkey without discrimination and without political conditions, he added.
Turkey has been fighting threats deriving from Syria and the Daesh/ISIS terrorist group for nearly a decade now, and it is the only NATO member state that has to see its troops be tormented, Erdogan said.
No European country has the luxury to remain indifferent before conflict and the human tragedy that has been taking place in Syria, the Turkish President concluded.
For his part, Secretary-General Jens Stoltenberg said that "no other ally has been subjected to more terrorist attacks than Turkey. No other ally hosts more refugees than Turkey", welcoming at the same time Turkey's efforts to secure the region.
He also described Turkey as an "important" ally that "has contributed to our common security in many ways".
The military alliance has invested heavily in missile systems and military bases in Turkey in recent years, and continues to contribute to air and naval missions in Turkey, he stressed.
"The Allies are willing to continue to support Turkey and to further look into what else they must do", he added, reaffirming the alliance's commitment to partnership.
Stoltenberg also expressed his concern about the security situation in Syria and the subsequent migration.
"The Assad regime and Russia have caused untold suffering to the citizens", he noted, adding that he hopes the ceasefire in Idlib in northwestern Syria decided last week by Turkey and Syria would develop into permanent peace.
The Secretary-General described immigration as "a common challenge" and welcomed the dialogue between Turkey and the EU on finding a long-term solution to the crisis.
The Erdogan-Stoltenberg meeting lasted about an hour and took place at the Permanent Representation of Turkey to the European Union. /ibna